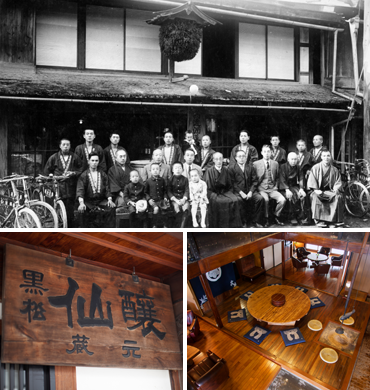 Famed Nagano brand that puts the city of Ina on the map
Owing to a climate with low summer humidity and cold winters, waters rich in calcium and magnesium, but without iron, which spoils the taste of liquor, land that favors growing rice for brewing, and other factors, Nagano Prefecture is eminently suited for sake brewing and is home to about 80 companies that make sake.
One of Nagano's venerable brewers, Senjyo was founded in 1866 in Takato-machi, Kamiina-gun. Senjyo is named after Senjogatake, a peak in the Akaishi Range that rises to the west of Takato. Using groundwater that plentifully flows from those mountains, rice grown in the Ina area, and brewing know-how inherited from Nanbu Toji, along with the latest facilities and techniques, the brewery has continued to make a superior sake that gives priority to delivering the flavor of the rice. The signature brand Kuromatsu Senjyo is a mellow sake with elegant sweetness and a soft palate, an authentic local brew representative of the best that southern Nagano can offer.
Sake made from locally grown rice
As a brewing enterprise, Senjyo pays particular attention to rice. Ina farmers are contracted to grow the Miyama Nishiki and Hitogokochi varieties of sake rice developed in Nagano Prefecture and, after harvest, we polish the rice in our own mill. We are also developing a brand of jummai sake that uses only Hitogokochi rice grown at high elevation.
Senjyo Co. Ltd.
Address

2432 Kamiyamada, Takatomachi, Ina, Nagano Pref.

Hours

9:00 a.m. to 4:00 p.m.

Closed

Sundays and Mondays

Cost

Sake brewery tour and tasting, 1,000 yen (reservation required); dining with sake in the 120-year-old sake storehouse, 6,000 yen (reservation required)

Phone

+81-265-94-2250

Access

Approximately 15 minutes by car from Inashi Station on the JR Iida Line
Approximately 20 minutes by car from Ina Interchange on the Chuo Expressway

Web site