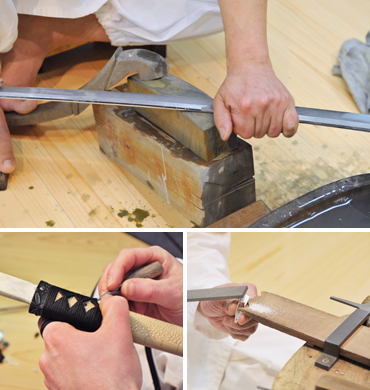 From town of swordsmiths major cutlery production center
The city of Seki in Gifu Prefecture, a place where many blade makers have congregated, is one of Japan's foremost centers of cutlery making. The roots of this tradition reach back to the 13th century when a swordsmith from Kyushu called Motoshige settled here. After he brought his expertise to this place where high-quality raw materials such as tempering clay and pine charcoal were available, and where there was an abundance of pure water necessary for hardening processes, many swordsmiths from other areas were also soon attracted to the area. It grew into a big production center.
Swords from Seki were said to "not break, not bend, cut well" and, in particular, known for its sambon sugi blade pattern, swords of the model called Seki no Magoroku made by Kanemoto II, were well-loved by warlords for their wonderful cutting edges.
When peace prevailed, and demand for killing blades decreased, swordsmiths turned their attention to more prosaic products such as kitchen knives, razors, scissors, and bladed agricultural tools. In 1888, the first Japan made pocket knife was forged in Seki. Today, a variety of sophisticated blades with refined designs are made in and around the city.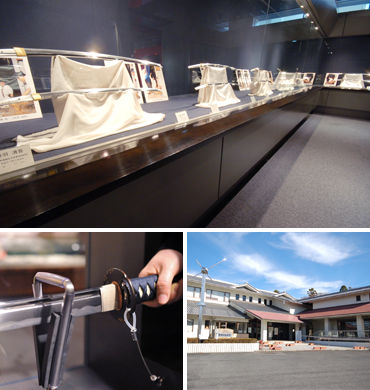 Impressive demonstration of ancient sword making
At the Seki Sword Tradition Museum, from images, artifacts, and other exhibits, you can learn about the techniques and history of swordsmithing. By viewing many and varied bladed items on display ranging from Japanese swords, highly esteemed both for the functional beauty of their blade patterns, which are both attractive and have keen edges, and for their fittings, to contemporary scissors, kitchen knives, and custom knives, you can embark on a journey of more than 700 years that brought cutting edges to the present day.
Periodically, usually once a month, but also on January 1 and 2 and during two days in October, swordsmiths demonstrate the old way of forging swords. Among flying sparks, you can get a good view of the impressive spectacle and hear the master swordsmiths explaining the materials and tools they are using.
Seki Sword Tradition Museum
Address

9-1 Minamikasuga-cho, Seki, Gifu Pref.

Hours

9:00 a.m. to 4:30 p.m. (last entry, 16:00)

Closed

Tuesdays, the day after a public holiday (but open if either is a public holiday)

Cost

Adult, 200 yen; junior high or elementary school student 100 yen; group discounts available (more than 20 people)
*From April 2017: Adult, 300 yen; high school student, 200 yen; junior high and elementary school student, 100 yen; group discounts available (more than 20 people)

Phone

+81-575-23-3825

Access

Approximately 5 minutes on foot from Nagaragawa Railway Hamono-kaikan-mae Station
Approximately 10 minutes by car from Seki Interchange on the Tokai-Hokuriku Expressway

Web site