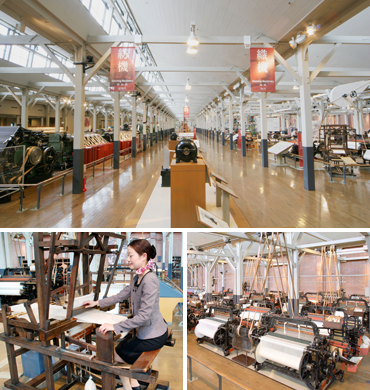 From looms to automobiles. The footprints of Toyota worldwide
Toyota is known worldwide as a manufacturer of automobiles, but the company's roots can be traced back to the inventions of Sakichi Toyoda, who was born in 1867 in what is now the city of Kosai, Shizuoka Prefecture. Having started in 1890 with the invention of a manually powered wooden loom, in 1896 Sakichi completed Japan's first automatic loom, which used motive power to weave cloth, instead of the manual power that had been used until then. The year 1924 saw the completion of the groundbreaking non-stop shuttle change automatic loom (Type G), which improved productivity while maintaining high quality. This was followed two years later by the establishment of Toyoda Industries Corporation. That laid the foundation for the dramatic growth of the textile industry in Japan.
Sakichi's oldest son, Kiichiro, carrying forth his father's concept of "nurturing a spirit of research and creation, always be at the vanguard of the times," perceived the possibilities of the automobile and established an automobile division within the company in 1933. Domestic production of automobiles in Japan thus gained a foothold.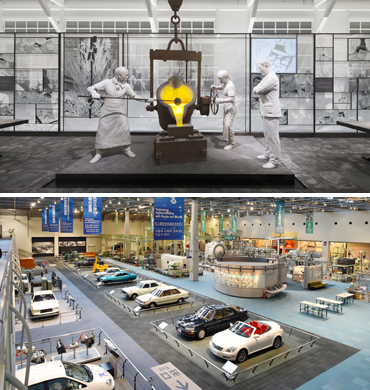 Experience for Yourself the Heritage of Industrial Modernization
The Toyota Commemorative Museum of Industry and Technology is built on the site of a Toyoda Automatic Loom Works plant that Sakichi Toyoda established in 1911. The museum utilizes the red brick building of the former plant and comprises a Textile Machinery Pavilion and an Automobile Pavilion. In the Textile Machinery Pavilion, visitors can trace the history of improvements to conventional looms and watch the non-stop shuttle change automatic loom (Type G) in operation, its mechanical sounds reverberating in rhythm. The Automobile Pavilion re-creates the manufacturing environment of the 1930s and displays a succession of Toyota vehicles. Creative workshops and other activities are held on weekends, allowing visitors to learn about technology in transition.
The Toyoda Automatic Loom Works plant and the Toyoda Standard Sedan AA are among the exhibits that are registered in the Heritage of Industrial Modernization of the Ministry of Economy, Trade and Industry, so visitors can experience history directly.
Toyota Commemorative Museum of Industry and Technology
Address

4-1-35 Noritake Shimmachi, Nishi-ku, Nagoya, Aichi Pref.

Hours

9:30 a.m. to 5:00 p.m. (Reception open until 4:30 p.m.)

Closed

Mondays (except holidays, when closed on the following day), end of year/beginning of year

Cost

Admission: Adults 500 yen; junior high & high school students 300 yen; elementary school students 200 yen. Disabled persons with a disability certificate are admitted at no charge, along with one attendant. Group discounts are available (for groups of 30 or more).
Joint admission tickets for the Noritake Garden (Noritake Craft Center) and the Toyota Automobile Museum are available.
Weekend workshops 500 yen; Admission to Waku-Waku Experience Corner (for elementary and junior high school students on Saturday, Sunday, Holidays) is free.

Phone

+81-52-551-6115

Access

Approximately 3 minutes on foot from Sako Station on the Meitetsu Nagoya Main Line
Approximately 10 minutes by car from Nishiki-bashi Exit on the Nagoya Expressway Ring Route

Web site