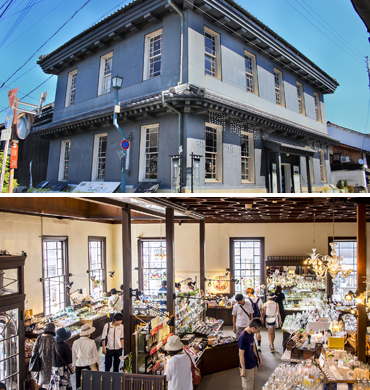 Savor the world of glass in a wooden building more than 100 years old
The Kitaguni-Kaido road runs north-south through the center of Nagahama, Shiga Prefecture. Kurokabe Square is a section of the old streetscape that flanks the road, and it features workshops, stores, galleries, and museums. The centerpiece is the Kurokabe Glass Shop.
The Western-style wooden structure was originally built to be the Nagahama Branch of the Dai Hyaku-Sanju National Bank. Because its walls were coated with black plaster, this landmark of central Nagahama became familiar to the locals under the nickname "Kurokabe Bank" (Black-walled Bank). The building was later used for business offices, and even a Catholic church, under a succession of different owners. Local citizen volunteers took the opportunity to preserve the building and put it to use as the Kurokabe No. 1 Building, Kurokabe Glass Shop, which opened in 1989, selling glassware from Japan and elsewhere, as well as works from the neighborhood workshops.
The atmosphere of that time has been retained, and traditional glass products from many different countries are displayed alongside glass accessories, glass pens, tableware, and the like.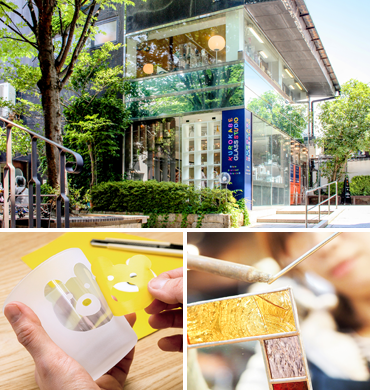 A wide range of hands-on experiences in MONOZUKURI
A distinctive feature of Kurokabe Square is that visitors can enjoy to the fullest the craftsmanship and the pleasure of MONOZUKURI as they stroll through the characteristically Japanese streetscape of tiled-roof wooden buildings. At the Kurokabe Glass Studio, you can watch craftsmen in their workshops demonstrating their command of techniques such as glass-blowing and engraving. The Kurokabe Experience Workshops provide classes in the making of eight types of glass items, using techniques such as sandblasting, stained glass, and the like.
Visitors can also enjoy making their own ceramics at the Ceramic Workshop Hokkokugama, making figurines at the Kaiyodo Figure Museum, and decorating music boxes at the Kurokabe Musical Box Shop.
Kurokabe Square
Address

12-38 Motohama-cho, Nagahama, Shiga Pref.

Hours

10:00 a.m. to 6:00 p.m. (hands-on experience until 4:30 p.m.), 10:00 a.m. to 5:00 p.m. from November to March (hands-on experience until 4:00 p.m.)

Closed

Open daily

Cost

Tours are free. Sandblasting Experience Workshop 1,620 yen and up, Stained Glass Experience Workshop 3,780 yen and up, etc.

Phone

+81-749-65-2330(Switchboard)

Access

Approximately 5 minutes on foot from Nagahama Station on the JR Hokuriku Main Line
Approximately 10 minutes by car from Nagahama Interchange on the Hokuriku Expressway

Web site