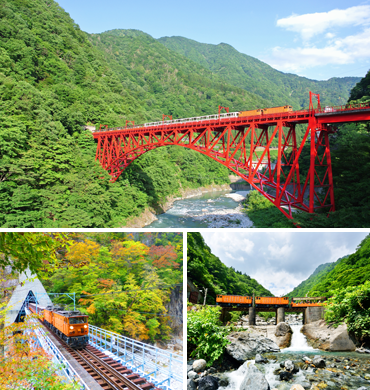 Tracks laid for hydroelectric plant construction
Said to be the deepest gorge (V-shaped valley) in Japan, Kurobe Gorge was cut but the upper waters of the Kurobe River, which flows through western Toyama Prefecture. The extreme terrain was uninviting, and it used to be a secluded place where not even hunters would venture. It first occurred to Jokichi Takamine, a business-minded scientist from Toyama Prefecture, that the heavy rainfall and steep valley in the headwaters would be favorable hydroelectric generation. In 1917, in a joint venture with an American company, surveyors began investigating the feasibility of establishing an aluminum smelter powered by hydroelectricity generated in the Kurobe Gorge.
To enable the construction of the hydroelectric power plant, the Kurobe Gorge Railway was laid for the transportation of construction materials and workers. After the start of construction 1923, about 20 km of track from Unazuki to Keyaki-daira was opened in 1937. As the construction of the railway proceeded, successive power plants were built in the valley.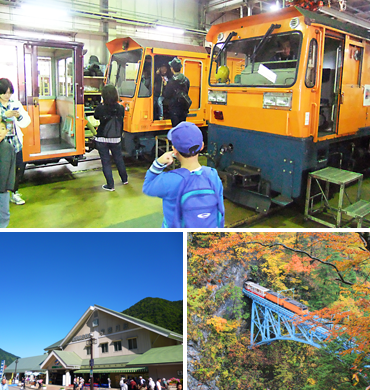 In "truck railway" cars, feel the natural grandeur of Kurobe Gorge
During the 1950s, people began to be attracted to the sights of Kurobe Gorge and, since 1953, tourists and climbers have been able to access the area by train. Today, the railway is well known for sightseeing, but it also still used for transporting construction materials and employees to the dam and power plant.
At an average speed of 16 kph, the railway cars take about 80 minutes to travel from Unazuki to Keyaki-daira. While the whole length is scenic, especially thrilling sections include Kuronagi to Sasadaira, where Atobiki-bashi bridge carries the track at a height of 60 m over the river below. Near Nekomata Station, you can see Kurobe No. 2 Power Plant, completed in 1936. The railway also passes Kuronagi Onsen, which was discovered in 1645, and also supplies spa water to Unazuki Onsen.
Kurobe Gorge Railway
Address

11 Kurobe-kyokokuguchi, Kurobe, Toyama Pref.

Hours

Unazuki Station first departure 7:32 a.m., final departure 3:40 p.m.

Closed

Open daily

Cost

Unazuki → Keyaki-daira (one way): Adult 1,710 yen; 6–11 years old, 860 yen; group discounts available (more than 15 people)

Phone

+81-765-62-1011

Access

A short walk from Unazuki Onsen Station on the Toyama Chiho Railway Main Line
Approximately 20 minutes by car from Kurobe Interchange on the Hokuriku Expressway

Web site