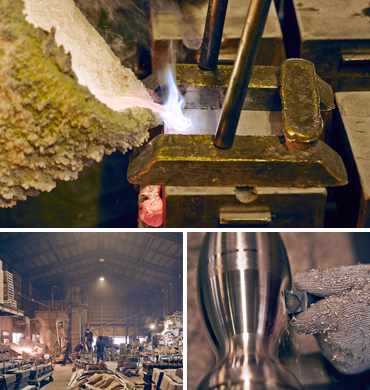 Japan's largest production of copperware: Takaoka
Copperware production began in the city of Takaoka in 1611 when, two years after establishing Takaoka Castle, to revitalize local industry, Maeda Toshinaga Lord of Kaga Domain (covering parts of present-day Ishikawa and Toyama prefectures) encouraged production by inviting seven imono copper-casting artisans to take up residence in the castle town. Initially, pots and kettles and other everyday household and agricultural items were made in the town but, eventually, town artisans did a flourishing trade in Buddhist altar items and, from the latter half of the 19th century, branched out into tea ceremony articles, ornaments and other arts and crafts items. Today Takaoka makes 90% of the production in Japan, from temple bells to bronze statues, of copper alloy vases, tea ceremony items, figures, and other craft goods. Most products are made by casting, that is, pouring molten metal into molds and, depending on the size and type of object, artisans usually select one of four main casting techniques. In addition, another inherited local skill is engraving, which is used for applying various patterns to surfaces.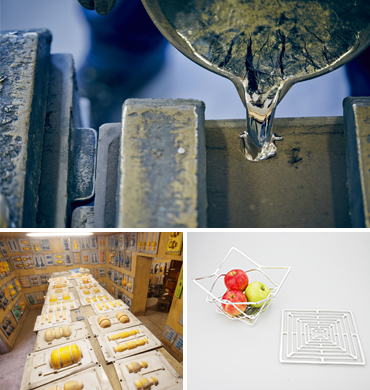 Using traditional skills and innovative technology
to explore new potential in casting
Founded in 1916, Nousaku started out making copper-alloy cast works mainly for Buddhist altars. In the factory, you can still smell the sand of the moulds and feel the heat of molten metal as artisans craft each individual piece using inherited green-sand casting skills.
In recent years, leveraging our long-cultivated technology, working with tin as a raw material, we have also been creating contemporary design products. Among these are new Nousaku signature pieces: mesh-like flats of soft, 100%-pure tin that can be freely formed into shapes.
When our office has relocated to new premises at the end of April 2017, in a studio workshop, you will be able to experience casting for yourself and, in the cafe restaurant, to enjoy dining on meals served on tin tableware.
Nousaku Corporation
Address

46-1 Toidesakaemachi, Takaoka, Toyama Pref.
(New address from end of April 2017, when head factory relocates to
8-1 Takaoka Office Park, Takaoka, Toyama Pref.)

Hours

Factory tour: 9:30 a.m. to 5:00 p.m.
Workshop, shop, and cafe: 10:00 a.m. to 7:00 p.m.

Closed

Factory Tour: Sundays and holidays (may not be held on holiday Saturdays)
Workshop, shop, and cafe: End of year/beginning of year

Cost

No fee for admission; factory tours, free of charge (reservation required); fee for casting experience (reservation required)

Phone

+81-766-63-5080 (Switchboard)

Access

Approximately 15 minutes by car from Shin-Takaoka Station on the Hokuriku Shinkansen Line or JR Johana Line
Approximately 5 minutes by car from Takaoka-Tonami Smart Interchange on the Hokuriku Expressway

Web site