Toyama specialty widely known via ekiben train-station box lunches
Masunosushi trout sushi is one of the signature local dishes of Toyama Prefecture. Leaves of bamboo grass are placed to line a round container made from wood, called a wappa, which is then filled with vinegared rice, finally, after uncooked slices of trout are placed over this, the fish and rice are pressed down by the lid. While the origins of the dish are not known, the Jinzugawa River which flows through the middle of Toyama Prefecture used to yield a large catch of masu trout, and Shogun Yoshimune, who ruled to the mid-18th century, was fond of their taste.
Four years after Toyama Railway Station was opened in 1908, sales began of masunosushi lunch boxes to travelers at the station. These ekiben were so popular that they soon became famous all over Japan as a Toyama specialty. Minamoto, the company that makes and sells masunosushi lunch boxes also opened a museum.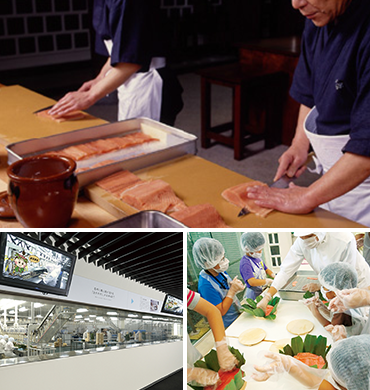 The challenge of making masunosushi
In the museum, easy-to-understand exhibits show the history of the dish and explain how it gets its delicious flavor. On the museum tour, you can get a close look at masunosushi being made traditionally by hand and, under the guidance of an artisan, you can try making your own sushi. There is also a factory tour where you can see part of the ekiben production process, and an exhibition of a collection related to the history of travel and food culture.
Moreover, in the restaurant, as well as being able to savor masunosushi freshly made with premium rice grown in Toyama Prefecture, you can try seasonal dishes made with Hokuriku regional ingredients.
Minamoto Masunosushi Museum
Address

37-6 Nano-cho, Toyama, Toyama Pref.

Hours

9:00 a.m. to 5:00 p.m.

Closed

Open daily

Cost

Entry, free of charge; masunosushi production tour, free of charge; masunosushi making experience, 1,000 yen (reservation required); masumaru trout rolled-sushi making experience, 500 yen (reservation required).

Phone

+81-76-429-3110

Access

Approximately 23 minutes from Takaoka Station (all lines) to Anyoji Bus Stop via Toyama Chihou Tetsudou Bus bound for Sasazu, then approximately 10 minutes on foot
About 10 minutes by car from Takaoka Interchange on the Noetsu Expressway

Web site