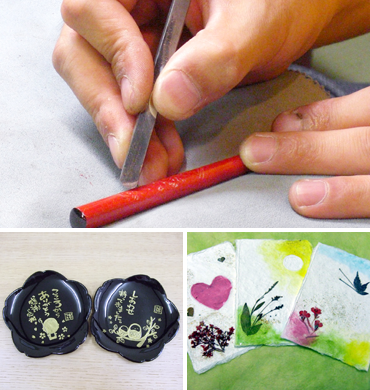 Ishikawa Prefecture: heir to various ongoing craft skills
The artisans of Ishikawa Prefecture handcraft a large variety of goods and, among these, the Ministry of Economy, Trade and Industry has recognized as many as ten products as traditional craft items. A few of the wide range of genres include colorful, hand-painted Kutani-yaki pottery, Kaga Yuzen dyed silks featuring motifs based on natural objects, robust, yet delicately decorated Wajima-nuri lacquerware, and Yamanaka-shikki lacquerware that brings out the woodgrain patterns realized by the art of wood turning.
This living legacy of craft stems from various factors, which include: availability of high-quality resources, such as wood, clay, and water; the patience of crafters who persevere to perfect fine, detailed work; a local spirit of creative ingenuity; local inhabitants who like elegance in their lives; and, during the 17th to 19th centuries, the cultural policies of the Maeda family who ruled the Kaga domain, which straddled the present-day prefectures of Ishikawa and Toyama.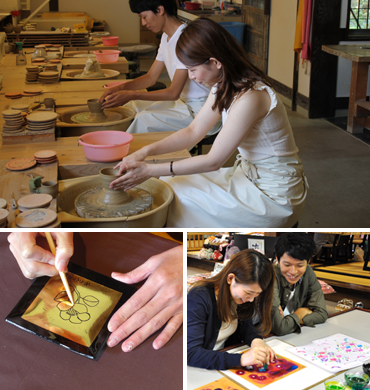 Experience to help you more deeply appreciate arts and crafts
Just down the road from Awazu Onsen: Yunokuni no Mori. In extensive grounds that reproduce the historical scenery of Japan, there is a hamlet of nearly 20 relocated thatched houses, each more than 100 years old, where you can become more familiar with the many crafts of Ishikawa Prefecture.
As well as viewing items in context, you can try a craft skill. Choose from more than 50 activities, including Kutani pottery painting, shaping clay on a potter's wheel, Yuzen stencil dyeing, techniques for decorating lacquerware with gold, gilding, and traditional papermaking. Other attractions include a spectacular exhibition of famed pieces of pottery and masterworks in glass.
Enjoy a complete experience the traditional crafts of Ishikawa Prefecture by observing artisans at work in houses dedicated to Wajima lacquerware, Kutani pottery, and glasswork.
Kaga Traditional Handicrafts Village Yunokuni no Mori
Address

Na 3-3 Awazu-onsen, Komatsu, Ishikawa Pref.

Hours

9:00 a.m. to 4:30 p.m. (open until 5:00 p.m. during Golden Week holidays and summer) *Last entry 60 minutes before closing time

Closed

Open daily (irregular closing)

Cost

Admission: Adult, 540 yen; junior high or high school student, 440 yen; age 4 or over 330 yen; skill experiences from 1,080 yen (admission until 3:00 p.m.)

Phone

+81-761-65-3456

Access

Approximately 20 minutes by car from Kaga-onsen Station on the JR Hokuriku Main Line
Approximately 25 minutes by car from Katayamazu Interchange on the Hokuriku Expressway

Web site