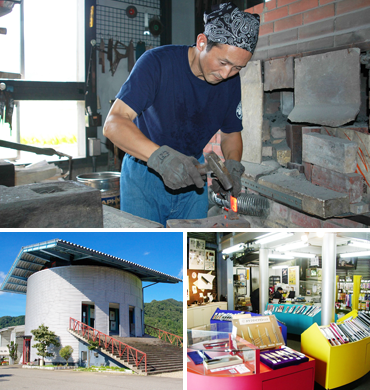 Blade workshop draws on 700 years of tradition
The history of Echizen forged blades, produced in the Takefu area of Echizen, Fukui Prefecture began in 1337 when Kuniyasu Chiyozuru a master swordsmith from Kyoto came to the area seeking water suitable for metalworking processes and started making both swords and, for farmers, sickles. Local people who learned the techniques then started producing sickles, hatchets, and other bladed farming tools. These were sold all over Japan by peddlers and, by 1874, the town accounted for the largest share, 27.5%, of the sickles sold in Japan.
In keeping with the needs of the day, the range of products had extended to kitchen knives, shears and other garden tools when, in 1979, in a first for first bladed tools in Japan, implements from Takefu were recognized by the nation as traditional craft items.
As well as sustaining traditional techniques for making Echizen forged blades, Takefu Knife Village aims to create contemporary cutlery with superior design. Currently, knives made here are in demand all over the world, and Takefu brands are gaining global recognition.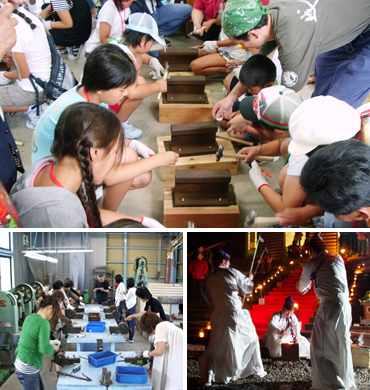 Close up, observe the traditional blade-making skills of Echizen
Echizen forged blades are hand wrought by beating heated steel with a hammer. In a traditional forging process known as mawashi kozuke, ferrite and steel are laminated and hammered into a diamond shaped blank, which yields a product that is light, tough, and has a superior edge.
As well as being able to watch from the observation deck of the shared smithy in Takefu Knife Village, the production processes carried out by seven traditional smiths as they forge kitchen knives, you can try making your own paper knife or knife sharpening or others of the seven hands-on experiences on offer. From 0 hour on January 1, you can also see the amazing sight of smiths, dressed in black-lacquered headgear and white clothing, carrying out the "first forging," an ancient rite to pray to stay safe during the year.
Takefu Knife Village
Address

22-91 Yokawa-cho, Echizen, Fukui Pref.

Hours

9:00 a.m. to 5:00 p.m.

Closed

January 1-3

Cost

Entry, free of charge; hands-on experience from 600 yen (reservation required, at least 7 days in advance)

Phone

+81-778-27-7120

Access

Approximately 15 minutes by car from Takefu Station on the JR Hokuriku Main Line
Approximately 10 minutes by car from Takefu Interchange on the Hokuriku Expressway

Web site