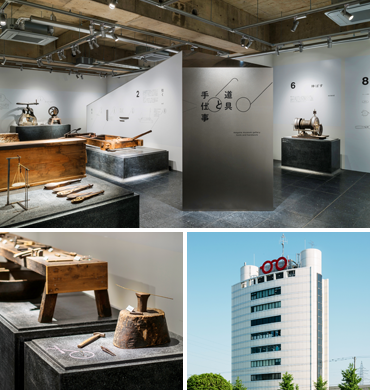 Sabae, known as the City of Glasses
Fukui Prefecture is the leading center for the mass production of eyeglasses in Japan, having more than a 90% share of the market. Production of glasses started in 1905. There was little industry in Fukui at the time, and a wealthy farmer named Gozaemon Masunaga, seeking to raise the living standards of the local farmers, recruited skilled eyeglass craftsmen from Osaka with the intention of launching a side business for the farmers.
The distinctive feature of eyeglass manufacturing in the region was the division of labor for individual parts. Specialized craftsmen's groups called choba competed with one another, gradually refining their technologies and making production more efficient. Eventually the entire city of Sabae became one big factory for the making of glasses. The production of sunglasses began in 1945, and in 1981, the world's first titanium eyeglass frames were successfully developed. In recent years, titanium processing technology has been applied to medical and electronic instruments, giving birth to new industries.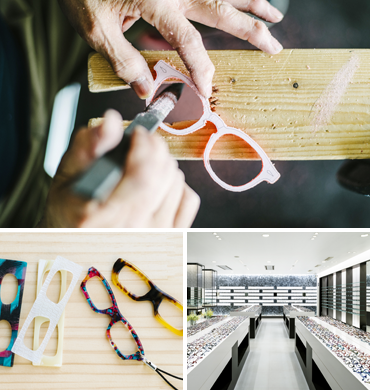 Unsurpassed precision machining technology
The making of glasses requires technologies for the precision machining of small metal objects. These include technologies for machining various types of metal materials, such as titanium and aluminum, as well as casting and surface treatments for ornamentation and corrosion resistance. The Glasses Museum brings visitors into contact with some of those technologies, along with the history of the industry.
In one corner of the museum, manufacturing tools from the era of manual labor are on display, along with eyeglass frames that give visitors a feel for the period. In the experience workshop, visitors themselves can make original eyeglasses and eyeglass straps. In the Glasses Shop, more than 3,000 frames made by about 40 companies in Fukui Prefecture are displayed for sale.
Glasses Museum
Address

2-3-4 Shinyokoe, Sabae, Fukui Pref.

Hours

10:00 a.m. to 5:00 p.m. (Shop open until 7:00 p.m.)

Closed

End of year/beginning of year

Cost

Admission free. Hands-on experience 500 yen and up

Phone

+81-778-42-8311

Access

Approximately 10 minutes on foot from Sabae Station on the JR Hokuriku Main Line
Approximately 3 minutes by car from Sabae Interchange on the Hokuriku Expressway

Web site