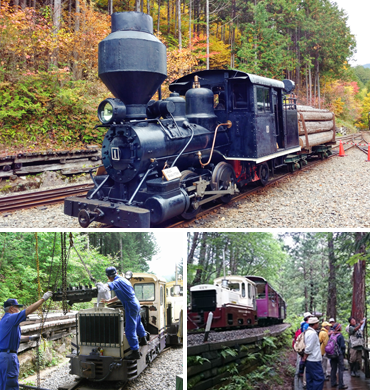 A vast natural forest preserved through the centuries
The Kiso region of Nagano Prefecture, surrounded by mountains, has had an abundance of forestry resources since ancient times. From the 17th century to the middle of the 19th century, a protection policy was enforced that strictly limited entrance to the forest and prohibited the felling of the "Five Kiso Trees": hinoki cypress, asunaro, Japanese umbrella pine, Japanese arborvitae, and sawara cypress. As a result, vast natural forests remain even today, and Kiso hinoki, in particular, is esteemed as a high-quality natural wood.
At one time, felled timber was transported by being floated down rivers, but in the 1910s, forest railways were built across the Kiso region, and once they began operating, rail became the main form of timber transport. At their peak, the routes covered more than 500 kilometers and became an important mode of transportation for the people of the mountainous region. Eventually, the switch was made to truck transport, and the Kiso Forest Railway ceased commercial operations in 1975. However, it is still operated as the last of Japan's forest railways.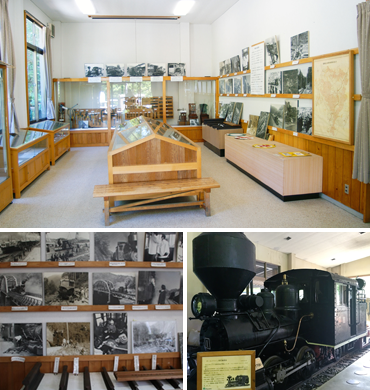 Experience for yourself the forest railway that supported the forestry industry
The Akasawa Forest Railway Memorial Museum is the starting point of the Forest Railway. Visitors can see the first American-made Baldwin steam locomotive that was used on the railway, as well as a VIP car, a barber's car, a motor car, and the like. Photographs of the era are also on display. If you're lucky, you might even get a close-up view of maintenance work on the operating locomotive.
A portion of the railway has been restored, and visitors can experience a ride on the Akasawa Forest Railway in the actual cars that operated in the railway's prime. You can experience the seasons in the Akasawa Natural Recreational Forest, one of Japan's three forests of outstanding natural beauty.
Akasawa Forest Railway Memorial Museum
Address

Akasawa Natural Recreational Forest, within Ogawa-Iri National Forest, Agematsu-machi, Kiso-gun, Nagano Pref.

Hours

9:00 a.m. to 4:00 p.m.

Closed

Closed in the event of foul weather. Winter break from November to April.

Cost

Museum admission is free. Parking: 600 yen for standard-sized cars. Akasawa Forest Railway ride experience: adults 800 yen, children from age 4 through elementary school 500 yen. Group discounts are available (for groups of 15 or more).

Phone

+81-264-52-1133

Access

Approximately 30 minutes by Akasawa Line bus from Agematsu Station on the JR Chuo Main Line.
Disembark at Akasawa Natural Recreational Forest bus stop.
Approximately 90 minutes by car from Nakatsugawa Interchange or Ina
Interchange on the Chuo Expressway

Web site