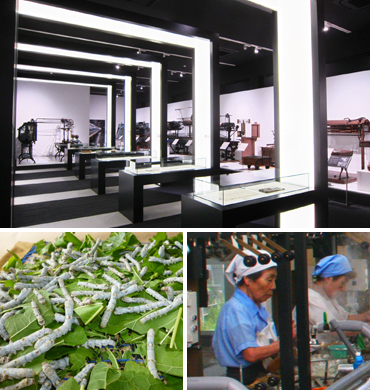 A town famed for silk: Okaya
After June 1859, when the trading port at Yokohama in Kanagawa Prefecture was opened to overseas trade, owing to European demand for raw silk, silk became an export commodity. While silk making at that time was completely done by hand in the city of Okaya in Nagano Prefecture, with the intention of improving quality and productivity, reeling machines were introduced to produce better raw silk.
Raw silk from Okaya had a reputation for high quality and, for processing, local production was mainly sent to Kyoto, a center of the textile industry until, in the second half of the 19th century, silk industry promotion by the government led to reeling mills being set up in places, such as Okaya, where raw silk was made. Raw silk processing developed rapidly in the town, especially after 1875, when local company Nakayama developed the inexpensive Suwa Reeling Machine. Eventually, once local producers ensured uniform quality standards and a consolidated shipping system was organized, Okaya became the center of the raw silk industry in Japan and, as national production grew to make Japan the world's leading silk producer, exported "Silk Okaya" was known all over the world.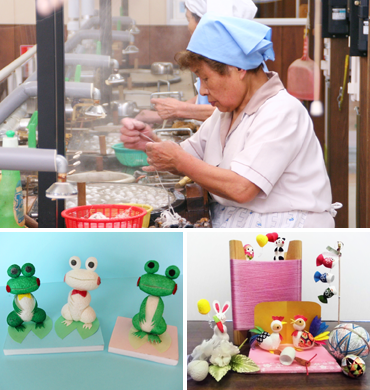 Raw silk made using modern-era machinery in the museum hall
To leave a record of the industry that supported the early modernization of Japan, Okaya Silk Museum curates a collection of reeling machines and other artifacts.
Starting with the only remaining French reeling machine in Japan, which was installed at Tomioka Silk Mill in 1872, you can follow the progress of the industry through the Suwa Reeling Machine and other developments, and get a feel of the heyday of the industry through other equipment that is still operated, in annexed facilities, by Miyasaka Silk Reeling Company. It is also fun to get a more personal experience of the world of silk by observing silkworms in the Kaiko Fureai Room (Silkworm Contact Room) and making cocoon dolls or handweaving on a small loom in Mayu-chan Kobo (Cocoon Studio Workshop).
Silk Fact Okaya - Okaya Silk Museum
Address

1-4-8 Goda, Okaya, Nagano Pref. (next to Okaya Chamber of Commerce)

Hours

9:00 a.m. to 5:00 p.m. (Miyasaka Silk Mill, Mayu-chan Kobo open 9:00 a.m. to 12:00 p.m., 1:00 p.m. to 4:00 p.m.)

Closed

Wednesdays, the day after public holidays, December 29 – January 3

Cost

Admission fee: Adult, 500 yen; junior high or high school student, 300 yen; elementary school student, 150 yen; group discounts available (more than 10 people); hands-on experience from 300 yen

Phone

+81-266-23-3489

Access

Approximately 20 minutes on foot from Okaya Station on the JR Chuo Main Line
Approximately 5 minutes by car from Okaya Interchange on the Nagano Expressway

Web site