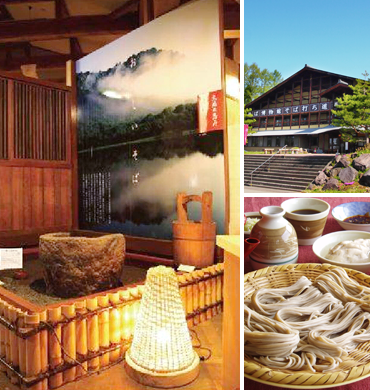 Togakushi soba buckwheat noodles, a treat for pilgrims
Consisting of noodles made with buckwheat flour, soba is a typical Japanese dish. While buckwheat is grown, and soba is made, all over Japan, soba produced in the Togakushi area of the city of Nagano is famously the premier soba of Shinshu.
Legend has it that practitioners of mountain asceticism brought buckwheat to Mount Togakushi during the 8th to 12th centuries but, at that time, rather than being made into noodles, soba flour was probably just mixed with water. It underwent a transformation some time during the 17th to 19th centuries and, in a form similar to today's, noodles were conveyed by monks from Kaneiji Temple in Edo (present-day Tokyo) to Togakushiji Temple, where soba subsequently became a treat for special guests. Since pilgrims came from all over Japan, guests who had stayed at the temple widely spread the name Togakushi soba all over the land.
The usual way to serve Togakushi soba is botchi mori, a portion of about five bundles of noodles carefully arranged side by side on a zaru (basket). This is said to be a hangover from the time before the noodle innovation, when uncut prepared buckwheat was served to honored guests.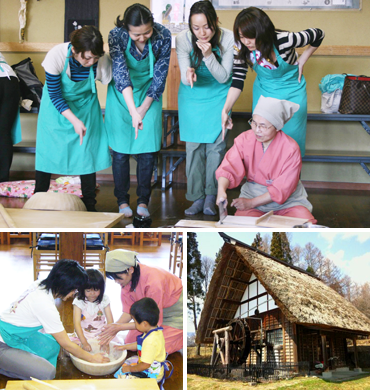 After learning about the history of soba, try making your own noodles
Togakushi Soba Museum - Tonkururin is one of the few museums in Japan dedicated to soba noodles. From the exhibits, which show old tools for making soba, the history of Togakushi soba, and how soba used to be eaten, it is easy to understand the buckwheat culture rooted in this area.
Around Togakushi, cool weather and local mountain mists bring out a fine aroma in the growing soba. In a noodle-making experience corner, artisans will carefully teach you how make noodles using local buckwheat flour and, straight afterwards, you will be able to taste the soba noodles you made.
Togakushi Soba Museum - Tonkururin
Address

3018 Togakushi, Nagano, Nagano Pref.

Hours

9:00 a.m. to 5:00 p.m.

Closed

3rd Wednesday each month; winter closing from December to early April

Cost

Admission fee: Adult 200 yen; under junior high school age, 150 yen; group discounts available (more than 30 people)
Soba-noodle making, from 3,240 yen per person (1 bowl of 4 servings, reservation required for groups of more than 15 people)

Phone

+81-26-254-3773

Access

Approximately 50 minutes from Nagano Station (all lines) by Alpico Bus bound for Togakushi Chusha, get off at Soba Hakubutsukan-mae bus stop, then a short walk
Approximately 70 minutes by car from Nagano Interchange on the Joshin-etsu Expressway

Web site