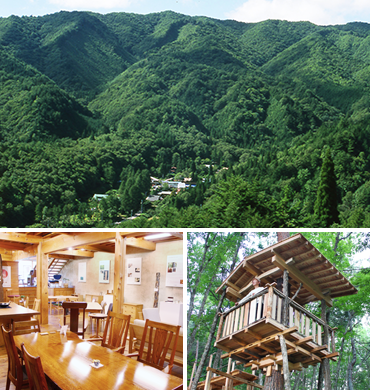 Monozukuri using the legacy of Hida craft skills
Learning their skills in the Hida highlands of Gifu Prefecture, Hida takumi master crafters have long been renowned for the excellence of the craft items and buildings they make. To ensure that these skills are transmitted to the new generation, Oak village in the Kiyomi area on the outskirts of the city of Takayama, Gifu Prefecture carries on with the making of tables, chairs, chests and other furniture items, building blocks, wooden horses, and other playthings, and interior objects and other things crafted from wood.
With care to bring out the virtues of wood as a natural material, furniture is made using traditional Hida joinery techniques, such as arizan bracing to preventing boards from warping and, to hold wood together, chigiri butterfly keys and hozotsugi mortise joints. Besides using lacquer finishes, depending on the materials used, for both safety and beauty, we also create toys and other products that are left uncoated.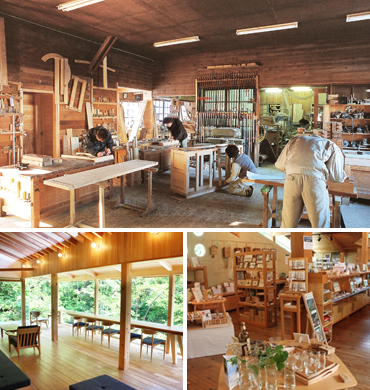 Deploying monozukuri to realize sustainability
Established in 1974, Oak Village started out by building furniture to order. Desiring to regenerate Japanese forests, in our products we only use wood from Japan. Moreover, to help bring about a sustainable recycling oriented lifestyle, we also do what we can to promote replanting and sustainable forestry, for example, by using thinned timber to make chopsticks, keyholders, and other goods.
On our site embraced by mountains, by prior arrangement, you can visit our woodwork shop and lacquer studio, or casually visit our showroom exhibiting various products that, down to the fine details have been crafted by artisans, our Forest Museum showcasing construction techniques used in wooden houses and other structures, ascend to our look-out treehouse with views over the Norikura mountains or, in a restful space surrounded by trees, spend a healing time in the Seseragi Lounge and Gallery.
Oak Viilage
Address

846 Makigahora, Kiyomi-cho, Takayama, Gifu Pref.

Hours

9:30 a.m. to 4:30 p.m.

Closed

End of year/beginning of year

Cost

Entry, free of charge; visiting wood workshop and lacquer studio, free of charge (if 10 people or more, reservation at least 1 month in advance required)

Phone

+81-577-68-2220

Access

Approximately 36 minutes by bus bound for Kami-nonomata Kominkan-mae from Takayama Nohi Bus Center at Takayama Station on the JR Takayama Main Line; get off at Ryotokuji-mae bus stop, and then approximately 10 minutes on foot
Approximately 20 minutes by car from JR Takayama Station
Approximately 5 minutes by car from Takayama-Nishi Interchange on the Chubu Jukan Expressway

Web site