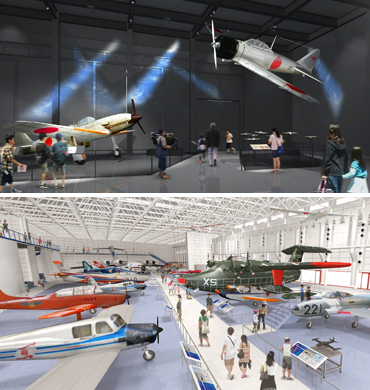 Aerospace industry town Kakamigahara
Kakamigahara in Gifu Prefecture is home to Kawasaki Heavy Industries' Gifu Plant, which manufactures aircraft fuselages. Kakamigahara is an aerospace industry town that in 2011 was designated a Special Zone to Create Asia No.1 Aerospace Industrial Cluster.
In 1922, Kawasaki Dockyard Company in Kobe, a predecessor of Kawasaki Heavy Industries, began domestic production of the French Salmson 2A2 biplane. Test flights were conducted at the army's Kakamigahara airfield (now the Air Self-Defense Forces' Gifu base), and in 1923 the company established a plant adjacent to the airfield.
The company had been involved in the production of military aircraft since the early years of the twentieth century, and after World War II it served as an aircraft production base for Kawasaki Heavy Industries, manufacturing training airplanes, patrol airplanes, transport airplanes, fighter airplanes, helicopters, and the like. The company has also expanded its activities into the aerospace field, producing the Ajisai experimental geodetic satellite in 1986 and the H-II A rocket in 2001, to name but two examples.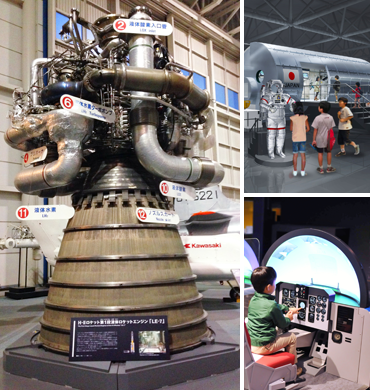 Up close with aircraft built in Kakamigahara
The Kakamigahara Aerospace Science Museum opened in 1996, with the mission of explaining to future generations the challenges faced by Japan's aerospace engineers and their associates and the legacy of their accomplishments. Numerous historic aircraft that were made in Kakamigahara are on display, starting with the Army Otsu-1 reconnaissance aircraft (the Salmson 2A2) and including the P-2J anti-submarine patrol airplane, a mainstay of the Marine Self-Defense Forces, and the Asuka, an experimental short take-off and landing aircraft.
Currently, the main building is temporarily closed for renovation work, but tours of the hangar are available. Visitors can see, in disassembled form, the fuselage, the main wing, and the engine of the Army Type 3 fighter airplane Hien, which was produced in Kakamigahara. The Hien on display at the museum is the only one remaining in Japan. When the fully renovated museum re-opens in March, 2018, the Hien will be on view in its assembled state, so it can be viewed in disassembled form only until then.
Once the renovation is complete, every part of the museum will have been expanded, from aircraft to spacecraft to hands-on experiences, so visitors will be able to learn about everything from history to the latest technology in greater detail.
Information about the renewal is updated regularly on our web site.
Kakamigahara Aerospace Science Museum
Address

5-1 Shimogiri-cho, Kakamigahara, Gifu Pref.

Hours

9:30 a.m. to 4:30 p.m. (varies with the season) *Main building and outdoor exhibition space closed until March, 2018

Closed

Hangar: Tuesdays (except holidays, in which case closed on the following weekday)

Cost

Hangar special exhibit: General admission 300 yen; 60 and over, high school students 200 yen; admission free for junior school students and younger

Phone

+81-58-386-8500

Access

Approximately 17 minutes by Fureai Bus Kawashima Line from Kakamigahara Shiyakusho-mae Station on the Meitetsu Kakamigahara Line. Get off at Koku-Uchu-Kagaku Hakubutsukan-mae bus stop.
Approximately 10 minutes by car from Naka Station on the JR Takayama Main Line or from Shin-Naka Station on the Meitetsu Kakamigahara Line.
Approximately 10 minutes by car from Gifu-Kakamigahara Interchange on the Tokai-Hokuriku Expressway

Web site