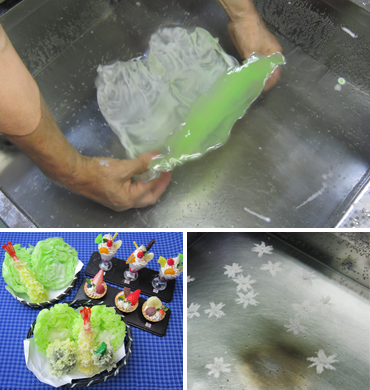 Products for display in the restaurant industry
One of the regional industries in Gujo Hachiman, Gifu Prefecture, is the production of artificial food samples. The food samples are displayed in the showcase of a restaurant as examples of the establishment's menu items. A sample is made by pouring resin into a mold, hardening it by baking, and then coloring it.
The making of food samples was first commercialized in Japan by Takizo Iwasaki, who was born in Gujo Hachiman. In 1931, he created an exquisitely detailed model of a rice omelet on his own, and in the following year he founded Iwasaki Seisakujo in Osaka. Sales expanded nationwide, spreading the use of food samples until they became an indispensable item in the restaurant industry.
In 1955, as a contribution to his hometown, Iwasaki established a plant in Gujo Hachiman. Thereafter, craftsmen who learned the technology at the plant went on to form their own independent companies, and Gujo Hachiman become a center for the production of food samples.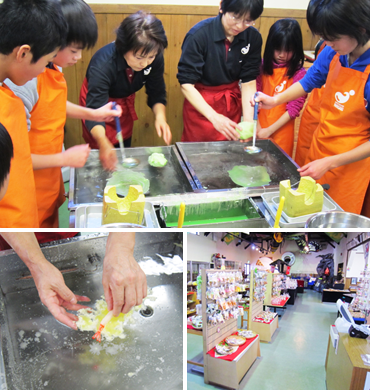 Looking delicious is more important than being identical to the original
The food samples of the company that Takizo Iwasaki founded faithfully reproduce the food, right down to such details as the doneness, the cuts, the luster, and the like. However, the main objective is not so much to make the sample identical to the original item, but rather to convey an impression of deliciousness. When the sample is put on display, the angle and the lighting are carefully adjusted so that the sample will look as delicious as possible.
Sample Village Iwasaki is a facility for displaying and experiencing food samples, and its greatest appeal is that visitors can have the experience of making various samples themselves, including sushi, tempura, and shaved ice, among others. You can also just enjoy seeing the exhibits, such as a specially made giant pizza, for example.
Sample Village Iwasaki
Address

250 Hachimancho Jonancho, Gujo, Gifu Prefecture (main building)

Hours

10:00 a.m. to 4:00 p.m. (Hands-on experience until 3:00 p.m.)

Closed

Tuesdays, 1st Thursday in October, 2nd Saturday in February, end of year/beginning of year

Cost

Admission free, hands-on experience 800 yen and up (reservations required)

Phone

+81-575-65-3378

Access

Approximately 5 minutes on foot from Gujo Hachiman Station on the Nagaragawa Railway
Approximately 3 minutes by car from Gujo Hachiman Interchange on the Tokai-Hokuriku Expressway

Web site