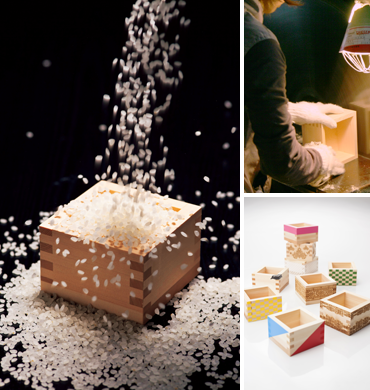 A box used for measuring rice is now familiar as a drinking vessel
A Ogaki, Gifu Prefecture, is the highest-volume production center for wooden masu in Japan, turning out 80% of the country's total production. As a tool for measuring rice, the masu has been an indispensable part of the daily lives of the Japanese since ancient times. In the modern age, the masu is hardly used any longer to measure rice, but it has become familiar at parties as a drinking vessel into which sake is poured. And because the noun "masu" is pronounced the same as the verb "masu," which means "to increase" or "to grow," it is popular as a good luck charm that is given on auspicious occasions.
Tracing the roots of the masu, one finds its production was once concentrated in Nagoya, which was a distribution center for Kiso hinoki cypress. In the latter half of the 19th century, masu craftsmen who had been employed in Nagoya returned to Ogaki and started making masu there. Gradually the production volume in Ogaki grew. Nagoya suffered much damage in the war, bringing a shift to Ogaki as the center of production, and at its peak, eleven different companies operated masu factories in Ogaki alone.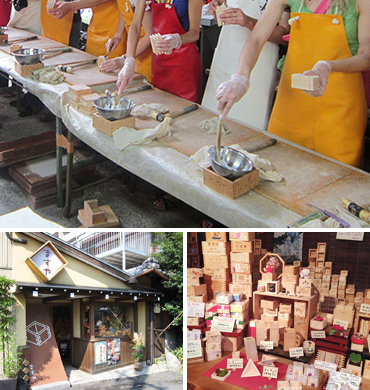 Careful attention is paid to the feel of the masu in the hand and at the mouth
Masu Workshop Masuya was founded in 1950 and plays its part in masu production in Ogaki. The making of a masu starts with the thorough drying of the hinoki cypress that is the raw material. After the hinoki is cut into the side panels and the bottom panel, the slots (and tenons) are carved. Then glue is applied, and the masu is assembled by mechanical and manual procedures such that the pieces fit together tightly. Finally, a craftsmen carefully bevels the corners one at a time to make the masu feel smooth in the hand and delicate at the mouth. Visitors who take the workshop tour can get a close-up view of our craftsmen at work, and visitors can also experience the making of a masu for themselves.
At the shop next door to the workshop, visitors can purchase various types of masu with different designs and shapes, as well as stylish goods from overseas.
Masu Workshop Masuya
Address

2-8 Nishitogawa-cho, Ogaki, Gifu Pref.

Hours

Shop: 9:00 a.m. to 6:00 p.m. (until 5:00 p.m. on Saturday and Sunday)
Hands-on experience: weekdays 9:00 a.m. to 4:00 p.m. (except from 12:00 to 1:00 p.m.), Saturday and Sunday 9:00 a.m. to 12:00 p.m.
Workshop tour: weekdays 9:00 a.m. to 4:00 p.m. (with 10-minute breaks at 10:00 a.m. and 3:00 p.m., plus a lunch break from 12:00 to 1:00 p.m.)
* Prior consultation required from November to February

Closed

End of year/beginning of year, O-Bon

Cost

Admission and workshop tour are free. Masu-making experience class 800 yen (reservations required 10 days in advance for groups of two or more)

Phone

+81-584-78-5468

Access

Approximately 15 minutes on foot from Ogaki Station
Approximately 15 minutes by car from Ogaki Interchange on the Meishin Expressway

Web site