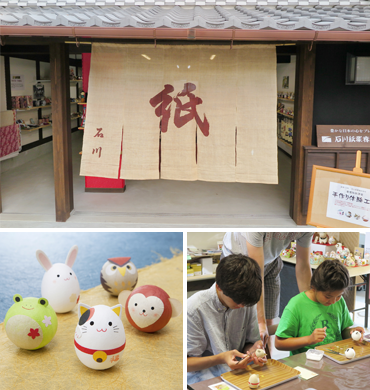 Washi is a UNESCO Intangible Cultural Heritage with a history of 1300 years
Mino Washi is made along the Nagaragawa River and Itadorigawa River valleys in Mino, Gifu Prefecture. Its history dates back 1300 years, to the middle of the 8th century, when it was one of the ancient Japanese papers that were supplied for use in family registers, even at the Shosoin, which houses cherished items of the Emperor and fine arts and crafts.
Factors in Mino's becoming a center for washi production include the clear streams in the region and the abundance of high-quality paper mulberry, which serves as the raw material for washi. In particular, the traditional washi that was made by hand using ancient techniques and tools, with paper mulberry as the only raw material, was called Hon-minoshi, and in 1969, it was designated as an important intangible cultural property of Japan. In 2014, Japan's distinctive hand-made paper technology, washi, was registered as a UNESCO Intangible Cultural Heritage.
Washi is now made both by hand and by machine and is used in a wide variety of products. These include craft items such as paper lanterns, umbrellas, and fans, everyday goods such as stationery and sundries, and even mass-produced industrial products.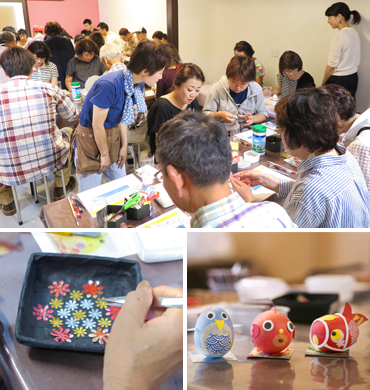 The enjoyable experience of making Mino Washi paper goods by hand
Ishikawa Paper Goods, Ltd. was founded in 1902 as a supplier of raw material for washi. Today, in addition to making approximately 1600 types of Japanese craft items one at a time by hand and selling them nationwide, the company is a manufacturing wholesaler that produces more than 400 Mino Washi brand items that have been certified by the Mino Washi Brand Cooperative Association.
At our shop, we conduct workshops in the making of 20 types of washi items, such as washi dolls, washi plates, and the like. We also display and sell 600 types of washi items that are hand-made by our craftsmen, including heart-warming doll accessories, folding fans, and card cases.
Our shop is located on a prosperous street in a Traditional Architectures Preservation District, where merchants who dealt in washi established their businesses from the 17th to the 19th centuries. A stroll along the beautiful street is but one of the pleasures available to visitors.
Mino Washi Paper Goods Workshop Ishikawa Paper Goods, Ltd.
Address

1909-3 Motozumi-cho, Mino, Gifu Pref.

Hours

11:00 a.m. to 4:00 p.m.

Closed

Please refer to our web site.

Cost

Admission free. Workshop 756 yen and up (reservations required for groups of 10 or more)

Phone

+81-575-33-0228

Access

Approximately 10 minutes on foot from Minoshi Station on the Nagaragawa Railway
Approximately 5 minutes by car from Mino Interchange on the Tokai-Hokuriku Expressway

Web site