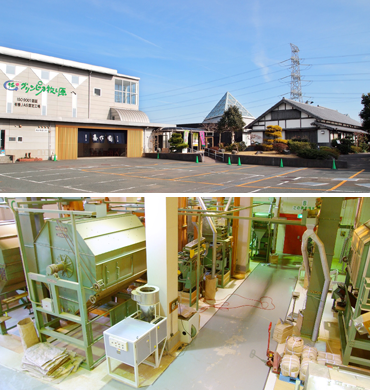 Shizuoka tea developed for export
Shizuoka grows 40% of all the green tea in Japan and beautiful tea gardens spread over large areas of the prefecture.
In the mid-13th century, tea production began in Japan when, in the Ashikubo area of present-day Shizuoka City, monk Shoichi Kokushi planted seeds he had brought back from Song dynasty China. During the latter 16th century to the 17th century, the area became known for its tea production, and it became something that could even be presented to Shogun Tokugawa Ieyasu.
From the mid-19th century, when opportunities were taken to export tea to America and other countries, large tea plantations were developed in Shizuoka Prefecture. Tea production in Makinohara increased when some former samurai, who had been cast adrift during Japan's modernization, put their energy into planting more tea gardens and developing other facilities. After the Port of Shimizu was opened to foreign trade in 1899, tea production dramatically expanded. A variety of tea bush called yabukita, which produced leaves with a sweet and elegant flavor, was discovered in the prefecture in 1908, and this type became a flagship brand of green tea.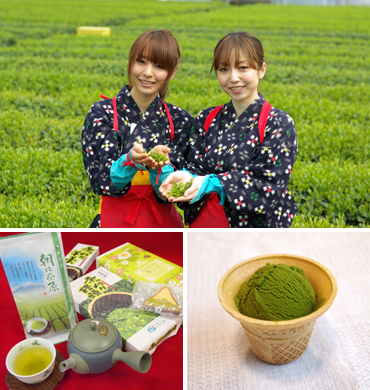 Experience tea-picking in Japan's premier growing area
The tea leaves produced in Shizuoka Prefecture are characterized by a good balance of umami, astringency, scents, and other elements. Blessed with conditions that nurture tea, the Makinohara Plateau is the most famous place in Japan for tea production.
In one corner of the vast tea plantation, at Grinpia Makinohara, along with machinery used for processing tea, you can see a panel exhibition presenting the history of tea production in Makinohara and, at the tea factory next door, you can observe production from finishing processes to bag filling. If you go on the tea picking experience, you can take out the leaves you pick and drink them as green or black tea or eat them as tempura or use them in other ways. In another way to see, touch, taste and know Shizuoka tea, you can also sample fukumushi sencha, deep steamed green tea, a special local product characterized by a beautiful dark green color.
Grinpia Makinohara
Address

1151 Nishihagima, Makinohara, Shizuoka Pref.

Hours

10:00 a.m. to 5:00 p.m.
Tea picking experience: late April to early October; weekdays, 11:00 a.m.; Saturday, Sunday, and holidays 11:00 a.m. and 2:00 p.m. (confirmation required)

Closed

End of year/beginning of year

Cost

Entry, free of charge; factory tours, free of charge
Tea picking experience: Adult 820 yen; elementary school student 720 yen
Tea girl costume rental: 500 yen (reservation required)
Sencha tea ceremony (with sweets): Adult 510 yen; elementary school student 410 yen (excluding peak times; reservation required)

Phone

+81-548-27-2995

Access

Approximately 15 minutes by car from Kikugawa Station on the JR Tokaido Main Line
Approximately 7 minutes by car from Sagara-Makinohara Interchange on the Tomei Expressway

Web site