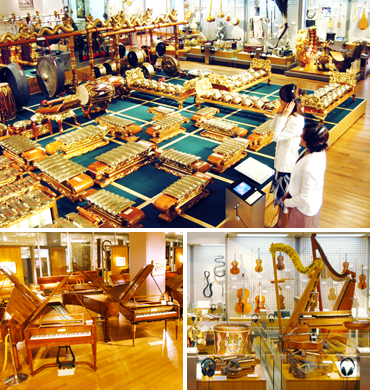 The birthplace of two major Japanese instrument makers
Hamamatsu, Shizuoka Prefecture, with its concentration of manufacturers of pianos, harmonicas, and electronic instruments, is the City of Musical Instruments. With its abundance of civic musical activities and international competitions, it is also the City of Music.
The production of musical instruments in Hamamatsu got its start in 1887, when a medical equipment repairman named Torakusu Yamaha repaired an American-made reed organ at an elementary school. Recalling his interest in music, Torakusu immediately built his own organ, and in 1889 he founded Yamaha Fukin Seizosho, which became the predecessor of Yamaha Corporation. In 1900, Yamaha succeeded in manufacturing the first piano produced in Japan. Koichi Kawai apprenticed under Torakusu and contributed to the establishment of domestic production of piano action mechanisms. In 1927, Kawai struck out on his own and founded the Kawai Musical Instrument Research Laboratory. Thereafter, both Yamaha and Kawai grew into world-class musical instrument makers.
After 1945, a succession of musical instrument makers were established on the foundation of instrument-making that Yamaha and Kawai had laid. Even today, a wide variety of musical instruments and instrument parts are manufactured in Hamamatsu.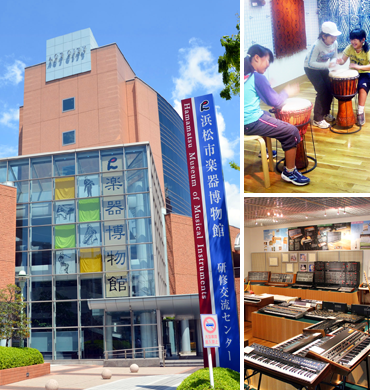 Large numbers of precious musical instruments from Japan and abroad on display
It was against this background that the Hamamatsu Museum of Musical Instruments was opened in 1995 as the only municipal musical instruments museum in Japan.
On permanent display are approximately 1300 musical instruments of many different types, collected from around the world and grouped by region and theme. The first generation of Western musical instruments produced in Japan are well-represented, as are electronic instruments. In the workshop, visitors can actually play rare instruments from many countries, including the African djembe drum and the Mongolian morin khuur. A reference corner is also provided where visitors can read music-related publications and listen to recordings. Lecture concerts on the theme of a single instrument are held frequently. Audiences can listen to performances by musicians from Japan and elsewhere and hear commentary by curators.
Hamamatsu Museum of Musical Instruments
Address

3-9-1 Chuo, Naka-ku, Hamamatsu, Shizuoka Pref.

Hours

9:30 a.m. to 5:00 p.m.

Closed

2nd and 4th Wednesday of each month (except August), facility inspection days, December 28 to January 3.

Cost

Permanent exhibition: adults 800 yen, high school students 400 yen. Admission free to junior high school students and younger, persons age 70 and older, and persons having a disability certificate.

Phone

+81-53-451-1128

Access

Approximately 10 minutes on foot from Hamamatsu Station on the Tokai Shinkansen or JR Tokaido Main Line
Approximately 30 minutes by car from Hamamatsu Interchange or Hamamatsu West Interchange on the Tomei Expressway

Web site