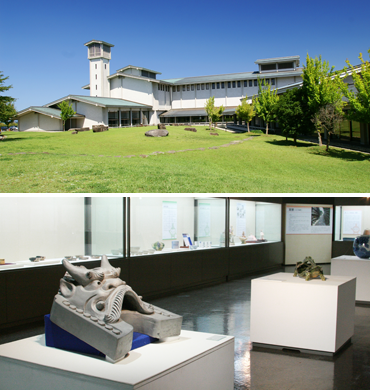 The long history of ceramics in Aichi
Aichi Prefecture is known as the leading ceramics region in Japan because of the high-quality kaolin that is mined there. Ceramics have been actively produced in Aichi since ancient times, starting with the Sanage kilns in the central part of the prefecture from the 5th to the 14th centuries and including the Atsumi kilns that prospered at the tip of the Atsumi Peninsula in the 12th and 13th centuries. In particular, Seto, where 10th-century kilns have been excavated, and Tokoname, where ceramic production began around the 12th century, are numbered among the six oldest pottery centers in Japan.
Various types of ceramic products are produced at different locations in the prefecture. In Japan, the term "setomono" is synonymous with "ceramics," and the name comes from the Seto ware that is produced in the town of Seto. Tokoname produces a wide range of products, from teapots to sanitary ware. Western tableware is made in the Nagoya area, and other products include fine ceramics, enamel ware, and the Sanshu roof tiles that are made in Takahama.
Moreover, the region is not limited to industrially produced ceramics, but is also an active center for ceramic arts, with numerous artists producing original works.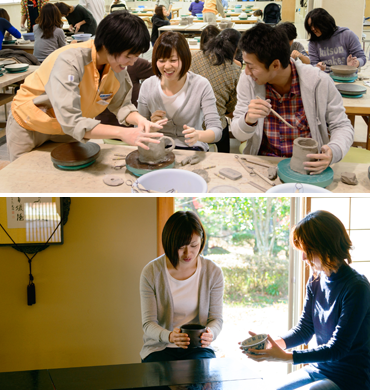 A museum for enjoying ceramics
The Aichi Prefectural Ceramic Museum, which opened in 1978, is the largest-scale museum in Japan devoted solely to ceramics, and its collection includes a wide range of ceramic wares from Japan and elsewhere, dating from before the common era to the present day.
In particular, Important Cultural Properties of high artistic value that have been selected from the museum's collection of ancient ceramics are displayed in the Famous Works Corner. Visitors can also see our collection of ceramic lion-dogs that guarded Shinto shrines, which were made in Seto and Mino.
In the Ceramic Craft Studio, visitors can directly experience the making and painting of ceramics with guidance from our staff. In the Tosui-an tea house, visitors can drink weak tea (or strong tea) from the teacups of their choice.
Aichi Prefectural Ceramic Museum
Address

234 Minamiyamaguchi-cho, Seto, Aichi Pref.

Hours

9:30 a.m. to 4:30 p.m. (until 5:00 p.m. from July 1 to September 30)

Closed

Mondays (except holidays, when closed on the following weekday), December 28 to January 4.

Cost

Permanent exhibition: adults 400 yen, high school & college students 300 yen. Group discounts are available (for groups of 20 or more). Ceramic making: adults 740 yen and up, junior high school students and younger 620 yen and up. Ceramic painting: adults 680 yen and up, junior high school students and younger 560 yen and up. (Reservations required for groups of 10 or more.)

Phone

+81-561-84-7474

Access

Approximately 15 minutes on foot from Tojishiryokan Minami Station on the Linimo Tobukyuryo Line
Approximately 5 minutes by car from Nagakute Interchange on the Nagoya-Seto Expressway

Web site