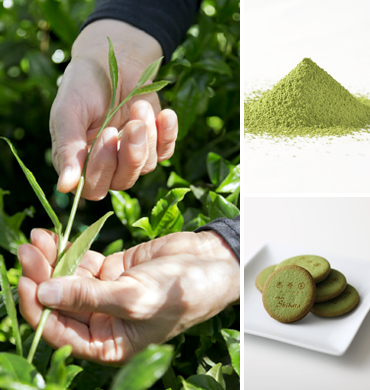 Largest production center specializing in matcha green tea
In Aichi Prefecture, the city of Nishio is the foremost production center in Japan of tencha leaves, which are the raw material for matcha green tea.
Tea production in Nishio has been traced to seeds brought back from Song dynasty China Shoichi Kokushi, who founded Jissoji Temple in 1271 and grew tea bushes in the temple grounds. Large-scale production for trade started in 1872. Tea plants thrive in Nishio thanks to abundant water from the Yahagi River, the well drained and fertile soil, and the mild local climate favors. Taking these conditions into account, at that time, Jundo Adachi, the chief priest of Kojuin Temple, acquired seeds from Uji near Kyoto, and encouraged the local cultivation of tea. From the outset, local growers were able to produce gyokuro and other high-grade teas and then, from the 1920s, production of tencha expanded.
Matcha is famously used in tea ceremonies but, these days, a large proportion of the tencha crop is used for flavoring processed foods such as ice cream and confectionery.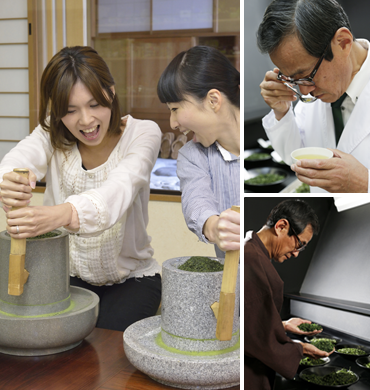 First hands-on matcha museum in the region
Underway from April 2017, Aiya Nishio Matcha Museum-Waku Waku is a hands-on museum opened by venerable local matcha business Aiya, which was established in 1888. Besides presenting matcha products from all over the world and providing the opportunity to observe the processes that go into making matcha, the museum offers interactive experiences to let you get to know matcha really well.
For example, you can try for yourself the tea quality assessment procedures carried out by tea experts called chasho, and try blending tea to make combinations of leaves that produce the best taste. Then you can hand grind the blended tea leaves using an old-fashioned tea mill, make the tea, and enjoy your brew with matcha sweets. There is also a museum shop where you can buy souvenir products.
*All tours are free of charge, but advance reservation is required. For details, please visit the website (URL below).
Aiya Nishio Matcha Museum - Waku Waku
Address

15 Yokomachiyashiki, Kamimachi, Nishio, Aichi Pref.

Hours

Shop: 9:30 a.m. to 6:30 p.m.
Aiya Nishio Matcha Museum - Waku Waku: 1-6 person tour; 7-20 person tour, start 10:00 a.m., 2:00 p.m., and 3:00 p.m.; 21-40 people tour, start 10:00 a.m., 2:30 p.m. (reservation required for all tours)

Closed

End of year/beginning of year

Cost

Entry free of charge

Phone

+81-563-77-6572 (only for tour reservations and inquiries)

Access

Approximately 10 minutes by car from Nishio Station on the Meitetsu Nishio Line
Approximately 60 minutes by car from Okazaki Interchange on the Tomei Expressway or Toyoake Interchange on the Isewangan Expressway

Web site