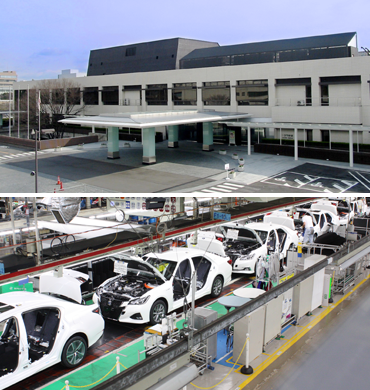 Get to know Toyota at Toyota Motor Corporation headquarters
The history of Toyota begins in 1933, when Kiichiro Toyoda established an automobile division within Toyota Industries Corporation, the company his father Sakichi Toyoda had founded in Kariya, Aichi Prefecture.
In 1937, the company became independent as Toyota Motor Co., Ltd. The following year, a large plant was established in Koromo (now Toyota), Aichi Prefecture, and full-scale production began. By 1947, total domestic production had reached 100,000 vehicles. From the 1950s onward, Toyota has developed a succession of mass-market vehicles renowned for their safety and high performance. Manufacturing cars by the Toyota Production System, which improved productivity while maintaining high quality, the company now exports vehicles to the entire world.
Even today, Toyota's headquarters remain in the company's home town. At the Toyota Kaikan Museum on the corporate campus, visitors can learn about the company's efforts to deal with safety and the environment, and about the future of the automobile. The museum is also the departure point for factory tours, for which reservations can be made in advance.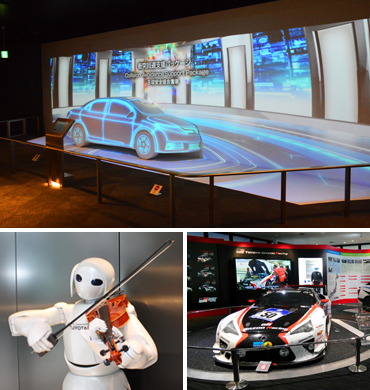 Experience the "Now" of Toyota
The first thing to catch a visitor's eye upon entering the museum is a Toyota Partner Robot playing the violin. Or maybe it's the i-ROAD, a single-passenger electric vehicle. Also on display are an eco-car equipped with leading-edge environmental technologies, a sports car that actually competes in races, and approximately twenty major models of Toyota and Lexus vehicles. A driving simulator gives visitors hands-on experience with technologies that support safe driving, and there's an "automobile classroom" for children, so everyone can experience the "Now" of Toyota.
Original Toyota merchandaise and Toyota-related books are also on sale in the museum shop.
Toyota Kaikan Museum
Address

1 Toyota-cho, Toyota, Aichi Pref.

Hours

9:30 a.m. to 5:00 p.m.

Closed

Sundays, Golden Week, summer break, year-end break, etc. (Refer to the web site for details.)

Cost

Admission free

Phone

+81-565-29-3345

Access

Approximately 5 minutes by car from Mikawa Toyota Station on the Aichi Loop Railway
Approximately 20 minutes by car from Toyota Interchange on the Tomei Expressway

Web site

http://www.toyota.co.jp/en/about_toyota/facility/toyota_kaikan/index.html
(Reservations for factory tours can also be made through the web site.)