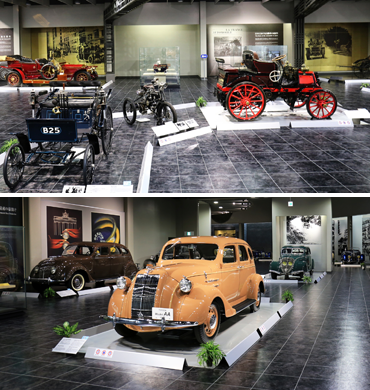 From steam-powered cars to gasoline-powered cars
The world's first automobile is said to have been a steam-powered car that was invented in France in 1769. The gasoline engine was invented in the second half of the 19th century, and it was initially installed in two-wheeled vehicles and horse-drawn carriages. In Germany, Karl Benz manufactured and sold a three-wheeled automobile in 1886, and around the same time, Gottlieb Daimler produced a four-wheeled automobile equipped with an engine of his own design. The 20th century brought explosive growth in the use of automobiles in France and America, ushering in the Age of the Automobile.
The first automobile produced in Japan was Yamaba's Steam Car, which was made in 1904. The year 1907 saw the birth of Japan's first gasoline-powered automobile, the Yoshida-shiki ""Takuri."" About ten of those vehicles were sold. Mass production of automobiles in Japan began with the establishment in 1925 of the DAT Motorcar Company, the predecessor of the Nissan Motor Company, followed by the establishment in 1933 of Toyota Industries Corporation's automobile division, the predecessor of the Toyota Motor Corporation.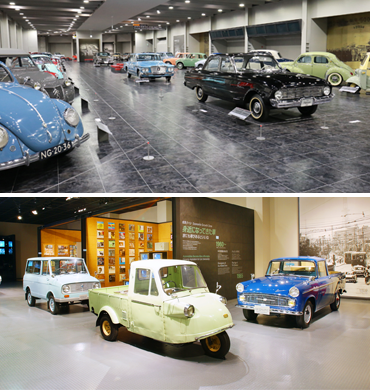 160 classic cars on display
The Toyota Automobile Museum provides an introduction to the history of the automobile, with approximately 160 vehicles on display, including gasoline-powered cars from the dawn of the automotive age and Japanese and foreign vehicles that symbolize various eras.
In the Main Building, visitors can get an unbroken view of the advance of motorization in Japan, the U.S., and Europe up to the present and of the interaction between Japan and the West. In the Annex Building, the history of motorization in postwar Japan is presented together with everyday products from the period.
The vehicles on display are maintained in basic operating condition, and demonstration runs are conducted every year in the spring and fall.
Toyota Automobile Museum
Address

41-100 Yokomichi, Nagakute, Aichi Pref.

Hours

9:30 a.m. to 5:00 p.m. (Visitors may enter until 4:30 p.m.)

Closed

Mondays (except holidays, when closed on the following day), end of year/beginning of year

Cost

Adults 1,000 yen; Age 65 and over 500 yen; junior high & high school students 600 yen; Elementary school students 400 yen. Persons with a disability certificate, a certificate of support for treatment of a specified disease, or the like: Adults 300 yen, elementary school students 200 yen, with one attendant admitted at no charge. Group discounts are available (for groups of 20 or more). Joint admission tickets for the Toyota Commemorative Museum of Industry and Technology are available.

Phone

+81-561-63-5155

Access

Approximately 5 minutes on foot from Geidai-Dori Station on the Aichi Rapid Transit Linimo Line
Approximately 0.4 kilometers from Nagakute Interchange on the Nagoya-Seto Expressway

Web site