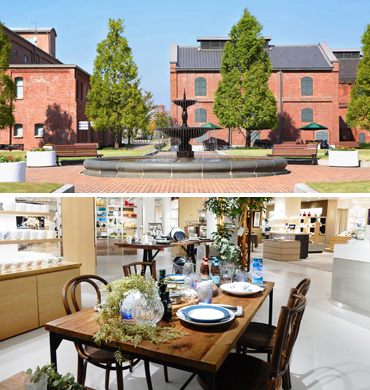 Noritake China captivates the whole world
Noritake is a Nagoya-based brand of tableware that represents Japan to the world. The company's history is of a piece with the history of Western tableware in Japan.
In 1876, a merchant named Ichizaemon Morimura founded the trading company Morimura Gumi in Tokyo. Morimura's younger brother traveled to New York, established an imported goods business called Morimura Brothers, and began full-scale overseas trading. With exports of pottery from Japan increasing, Morimura was deeply impressed by European white porcelain he saw the 1889 Paris Exposition, and he resolved to start production in Japan.
Building on research using engineers dispatched from Europe, the Morimuras established Nippon Toki Kaisha in 1904. The company built a modern plant in what is now the Noritake neighborhood in Nagoya's Nishi Ward. After much trial and error, the company succeeded in creating an exquisitely beautiful white porcelain, and they started producing Japan's first Western-style dinner set in 1914.
When the new product was exported to America, it was much praised, and it soon spread around the world under the Noritake China brand.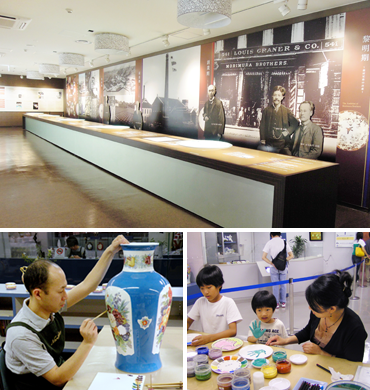 Enjoy the world of Noritake in the birthplace of the modern ceramics industry
The Noritake Garden utilizes the red brick plant and grounds of the former Nippon Toki Kaisha. The Welcome Center presents the history of Noritake, as well as the technology and products that have been developed in the making of our tableware. In the Noritake Museum, visitors can see the fine products of the Old Noritake line. Visitors can also directly experience how bone china is painted. A shop, a cafe, and a restaurant are also provided within the spacious grounds.
The Craft Center presents the entire series of bone china production processes, from original mold production to glaze firing. Visitors can also get an up-close view of master craftsmen painting bone china by hand.
Noritake Garden
Address

3-1-36 Noritake Shimmachi, Nishi-ku, Nagoya, Aichi Pref.

Hours

10:00 a.m. to 5:00 p.m. (The shop and the Noritake Garden Gallery are open until 6:00 p.m.)
Restaurant hours: Lunch 11:30 a.m. to 2:30 p.m., dinner (reservations only) 5:30 to 10:00 p.m.

Closed

Mondays (except holidays, when closed on the following weekday), end of year/beginning of year

Cost

Admission to Noritake Garden is free. Combined admission to the Craft Center and the Noritake Museum: Adults 500 yen; persons age 65 and over 300 yen. Admission is free for high school students and younger, disabled persons with a disability certificate who present identification. Group discounts are available (for groups of 30 or more). China painting experience workshop: 2,000 yen.

Phone

+81-52-561-7290

Access

Approximately 15 minutes on foot from Nagoya Station
Approximately 5 minutes on foot from Kamejima Station on the subway Higashiyama Line
Approximately 10 minutes by car from Nishiki-bashi Exit on the Nagoya Expressway

Web site