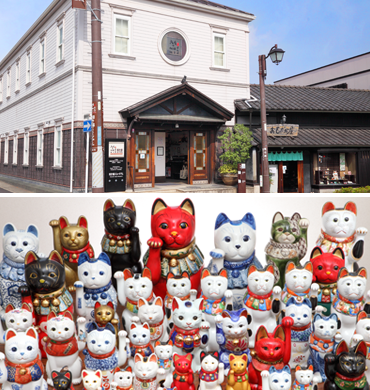 A lucky charm for attracting good luck
In the past, one of the main items of Seto ware, a famous ceramic product of Aichi Prefecture, was a figurine such as a doll or the like that was called a novelty. Production started around the end of the 19th century, and in the 20th century, novelties made in Seto began to be exported and drew attention overseas. Although there were times when production declined, it would always recover, and by the 1970s, novelty production was going full steam ahead, with the focus on exports.
What could be called the archetype of the Seto ware novelty is the maneki-neko, which started to be produced around the beginning of the 20th century. The maneki-neko has long been familiar as a lucky charm that attracts good fortune and wealth. It is the most popular cat figurine in Japan and can be seen in all sorts of places, including shops, restaurants, businesses, and even ordinary households.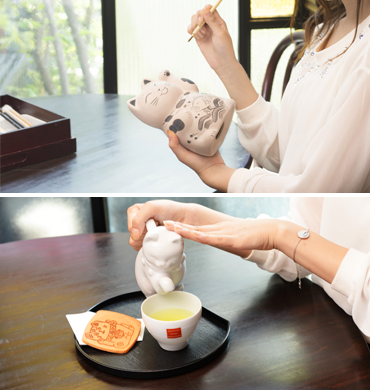 Different regions produce different styles
The distinctive feature of the maneki-neko is its pose of sitting with one paw raised. A maneki-neko with its left paw raised is said to be beckoning people (customers), while a maneki-neko with its right paw raised is beckoning money. The main style of maneki-neko produced in Seto is a slender cat with a bib, what is called the Old Seto style. Today, many different types of maneki-neko are being made in various bright colors and different poses, and even from materials such as glass.
At the Maneki-Neko Museum, approximately 5,000 maneki-neko that were collected from all over Japan are on display. The collection is organized into historical periods, figurines from temples and shrines, the main production centers, and particularly rare items, so that visitors can readily understand the differences in design. You can also try painting a figurine to make your own original maneki-neko.
Maneki-Neko Museum
Address

2 Yakushimachi, Seto, Aichi Pref.

Hours

10:00 a.m. to 5:00 p.m. (admission until 4:30 p.m.)

Closed

Tuesdays (except holidays, when the museum is open), end of year/beginning of year

Cost

Admission to the 1st floor is free. Admission to the 2nd floor museum: adults 300 yen, high school & college students 200 yen, free admission for junior high school students and younger. Group discounts are available (for groups of 20 or more). Painting experience: 300 yen and up (Reservations required for groups of 10 or more.)

Phone

+81-561-21-0345

Access

Approximately 8 minutes on foot from Owari Seto Station on the Meitetsu Seto Line
Approximately 5 minutes by car from Seto-Akazu Interchange on the Tokai-Kanjo Expressway

Web site