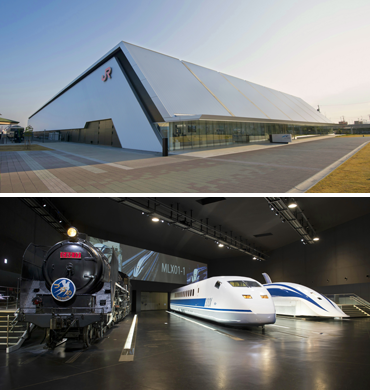 Japan's Railways: Pursuing high speed and safety
Japan's first railway started service in 1872, and the industry has continued to pursue safety, speed, and traffic volume up to the present day. Currently, operating lines in Japan cover more than 27,000 kilometers of track, and from the standpoint of passenger volume and the technological superiority of its rail cars and operating systems, Japan can be said to be one of the world's leading railway nations.
Japanese railway technology got its start in 1893 with the class 860 locomotive, the first locomotive to be manufactured in Japan. The Tokaido Main Line was fully electrified in 1956, after which a succession of high-performance electric trains came into service. 1964 saw the start of service on the Tokaido Shinkansen, which has become synonymous with high-speed rail. Construction is currently underway on the Linear Chuo Shinkansen, which is scheduled to begin operating in 2027.
The SCMAGLEV and Railway Park uses actual rail cars, videos, and the like to tell the story of the progress of Japanese railway technology and the influence of railways on society.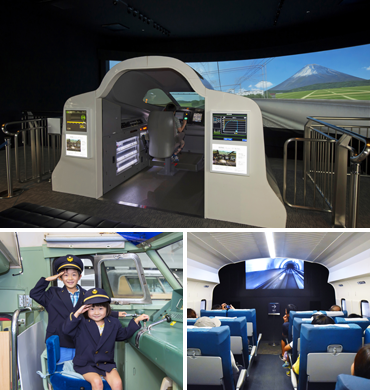 Experience the history of Japan's railways and their superior technology
The focal point of the main exhibit is the large number of actual rail cars. Thirty-nine cars that illustrate the history of Japan's railways are on display, including the Series 0 Shinkansen. With few exceptions, visitors can tour the interior of the cars as well.
In the Greatest Railway Diorama Room, the largest such exhibit in Japan, scenes along the route of the Tokaido Shinkansen are reproduced in exquisite detail, and visitors can observe a full 24 hours of railway operation, from the start of service in the early morning to late-night operations.
The attractions of Japan's railways are presented in a variety of forms. The Railway System Learning Zone uses actual equipment and models to explain the systems that support railway safety. In the Mini-theater, visitors can learn what it feels like to travel at 500 kilometers per hour on the superconducting maglev train, and the Train Driving Simulator and the Train Crew Simulator provide hands-on experiences. The Delica Station serves ekiben box lunches, and visitors can purchase a wide array of railway souvenirs in the Museum Shop.
SCMAGLEV and Railway Park
Address

3-2-2, Kinjofuto, Minato-ku, Nagoya, Aichi Pref.

Hours

10:00 a.m. to 5:30 p.m. (admission until 30 minutes before closing)

Closed

Tuesdays (except holidays, when closed on the following day; open during spring break, Golden Week, summer break, etc.), December 28 to January 1.

Cost

Adults 1,000 yen, elementary, junior high, and high school students 500 yen, younger children (under 3 to pre-school) 200 yen. Group discounts are available (for groups of 20 or more). Separate charge for simulator experience (participants chosen by lottery or by order of arrival).

Phone

+81-52-389-6100

Access

Approximately 2 minutes on foot from Kinjo-futo Station on the Aonami Line
Immediately adjacent to Meiko-Chuo Interchange on the Isewangan Expressway

Web site