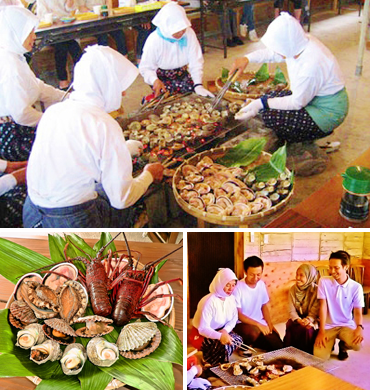 A town where ama have been diving since before recorded history
Ama are local women whose way of life involves free diving to gather shellfish, sea vegetables and other marine products. Gathering mainly abalone, turban shells, sea urchin, sea cucumber, and vegetables such as hijiki and wakame, about 1,000 ama divers practice in 28 districts on the Shima Peninsula of Mie Prefecture. No one knows why ama first started diving in the bays of Shima, but sites dating from 300 BC, which have yielded antler rake and lever tools, and mounds of abalone shells, are evidence that diving is locally an ancient occupation. Dating from the 8th century, Japan's oldest existing anthology of poems, the Man'yoshu, has many verses mentioning ama, and the first reference in an official document to ama divers in Shima was recorded in AD 927. From times long past, generations of ama divers have passed on their skills and knowledge.
Ama divers on the Shima Peninsula are also deeply linked with Ise Jingu Shrine. Noshi awabi (strips of dried abalone) are made from shellfish gathered by ama and, three times a year, formally presented as sacred offerings to Ise Jingu Shrine.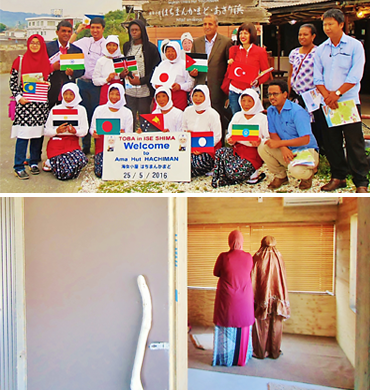 Taste seafood and experience the culture of ama
Ama divers in Shima deliver the bounty of the sea. They have huts where they rest after diving and take care of their tools between diving sessions. You can visit the ama hut at Hachiman Kamado and share in part of their work.
The cosy hut space encloses a kamado hearth where, in front of you, over charcoal, ama will boldly broil fresh seafood such as spiny lobster, abalone, and turban shells they have gathered that day. While savoring the fresh taste of the sea and the scent of the surf, you can listen to their accounts of the work and the history of ama diving. By joining in an Osatsu ondo folk dance or by trying on the traditional white garb the ama dive in, you can also personally experience some of ama culture.
Ama Hut Hachiman Kamado
Address

819 Osatsu-cho, Toba, Mie Pref.

Hours

9:30 a.m. to 6:30 p.m.

Closed

December 30 – January 5, August 13–15 (also irregular holidays)

Cost

Tea Time Experience with ama talk 2,160 yen; Ama Hut Experience with food 3,780 yen
Traditional White Clothing Experience 300 yen (reservation required for each experience)

Phone

+81-599-33-1023

Access

Approximately 25 minutes by car from Toba Station (JR Sangu Line, Kintetsu Toba and Shima lines)
Approximately 15 minutes by car from Tobaminami-Shiraki Interchange on the Daini Ise Road

Web site