World's first success in culturing pearls
The Shima area of Mie Prefecture was long famous for its natural pearls. Owing to overfishing, however, during the late 19th century the akoya oysters that produce natural pearls were on the verge of extinction. Responding to the critical situation, Kokichi Mikimoto, a merchant from Toba City, Mie Prefecture launched a business to cultivate akoya oysters. Then he started experiments to cultivate pearls themselves. After three years of trial and error, he finally succeeded, for the first time in the world, in producing a cultured pearl in 1893.
As Mikimoto continued his research, and as information was generated by other people entering the business, the technology was established and, after pearl culturing patents were opened in 1928, pearl farming flourished throughout the Shima area.
To further his desire that women all over the world adorn themselves with pearls, Mikimoto opened a shop specializing in pearls in Ginza, Tokyo and, at the same time, he was determined that cultured pearls be appreciated for their beauty and through means such as publicly destroying inferior pearls, in Japan and overseas, he drew attention to the charm of pearls.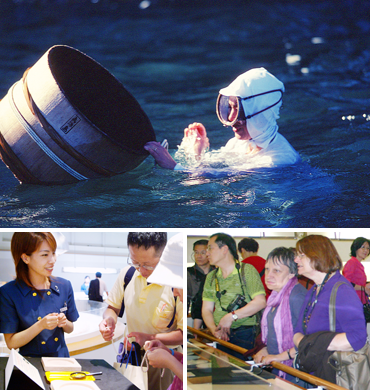 Demonstration of ama divers dressed in traditional white
The place where Mikimoto first succeeded in culturing pearls is now known as Mikimoto Pearl Island. Strongly determined, in 1939, he first opened the site to the public and, in 1951, it was upgraded to an integrated "industry, sightseeing, and education" complex.
If you are interested in the relationship between people and pearls, on the island, there are facilities where you can learn about pearl culturing processes and pearl farming, a pearl museum displaying antique pearl jewelry and masterpieces in the Mikimoto Collection, and Kokichi Mikimoto Memorial Hall presenting the history of Mikimoto's checkered career and achievements. In addition, making it possible to spend a rewarding full day out, there are shops selling pearls and jewelry, restaurants, and diving demonstrations by ama dressed in the traditional white they wore when they participated in aquaculture.
Mikimoto Pearl Island
Address

1-7-1 Toba, Toba, Mie Pref.

Hours

8:30 a.m. to 5:30 p.m. (varies by season)

Closed

3 days starting from the 2nd Tuesday in December

Cost

Admission fee: Adult, 1,500 yen; junior high and elementary school students, 750 yen; group discounts available (more than 20 people)

Phone

+81-599-25-2028

Access

Approximately 5 minutes on foot from Toba Station (JR Sangu Line, Kintetsu Toba and Shima lines)
Approximately 10 minutes by car from Toba Interchange on the Ise-Futami-Toba Line Toll Road

Web site