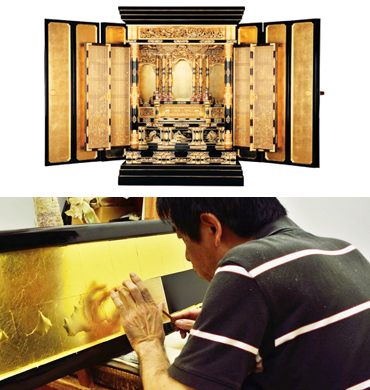 350-year history of Hikone butsudan home altars
Artisans who normally worked on arms and other military items in the castle town of Hikone on the banks of Lake Biwa (present-day Shiga Prefecture) are said to have started making Hikone butsudan in the middle of the 17th century. At that time, Christianity had been prohibited and, with more and more people installing butsudan Buddhist altars in their homes to demonstrate their religious affiliation, local production was also encouraged by Hikone Domain, the local government. Still today, in the neighborhood where the artisans worked, Buddhist altar shops line a bending street called Nanamagari.
Seven different production processes go into making a Hikone butsudan. For each of the processes there is a master artisan: the kijishi woodworker carefully selects the wood used for the butsudan and makes the cabinet parts; the kudenshi joiner who, in the same manner used in the construction of Buddhist temples, assembles several thousand separate wooden parts into a roofed structure; the nushi lacquerer who applies lacquer in necessary places onto the wood; the kazari kanagushi metalworker who makes decorative metal fittings by skillfully using burins and stamps to form designs from metal blanks; the chokokushi woodcarver who uses chisels and knives to produce decorative reliefs and figures; the makieshi gilder who uses gold and silver powder to create decorative motifs on lacquer; and the kimpaku-oshishi gilder who applies at least 1,000 sheets of gold leaf on each butsudan.
A butsudan is completed by assembling parts made by each artisan into a single altar at a butsudan shop.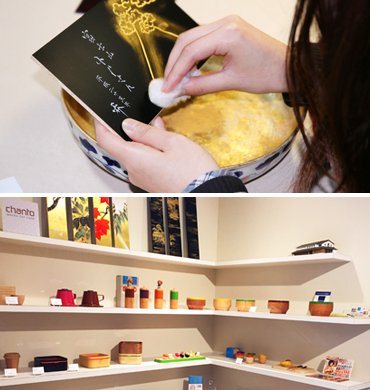 Try your hand at the techniques of the "seven artisans"
Nearly every process in the making a Buddhist altar is done manually by skilled artisans. Established in 1901, Inoue Butsudan now enables observation of the skills of the seven artisans and, with options to try lacquering or gilding with leaf or powder has made it possible for visitors to get experience of inherited craft skills, which these days have been transmitted beyond traditional application for Hikone butsudan, and are deployed in making "watch winder cases" used as presentation boxes for automatic wrist watches, and to tables, wall hangings, and other interior styling.
The company has also launched a brand called "chanto" that offers stylish new products, such as coffee mills and cups, collaboratively created by designers and artisans.
Inoue Butsudan
Address

50 Serinakamachi, Hikone, Shiga Pref.

Hours

10:00 a.m. to 6:00 p.m.

Closed

Tuesdays, Golden Week, summer, and end of year/beginning of year

Cost

Gold-leaf gilding experience, from 1,300 yen; Maki-e gilding experience, from 1,300 yen; workshop visits, from 7,000 yen per location (reservation required for any option)

Phone

+81-749-22-1587

Access

Approximately 5 minutes by car from Hikone Station (JR Tokaido Main Line, Omi Railway Tagataisha Line)
Approximately 8 minutes on foot from Hikone-Serikawa Station on the Omi Railway Tagataisha Line
Approximately 10 minutes from Hikone Interchange on the Meishin Expressway

Web site