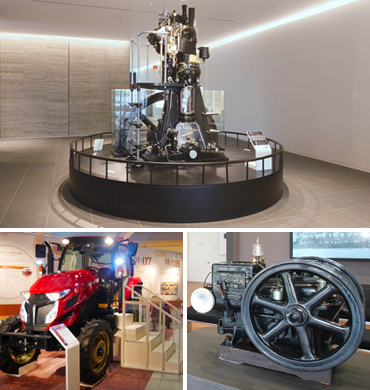 The development of the world's first small diesel engine
Yanmar is known as Japan's one of leading makers of industrial machinery such as agricultural equipment and the like. Founder Magokichi Yamaoka was born in a farming village near Nagahama, Shiga Prefecture, and after working for the Osaka Gas Company, he established the Yamaoka Engine Workshop in Osaka in 1912 to repair and sell gasoline engines. Magokichi came from an impoverished farming family, and thinking that mechanization would make agricultural work a little easier, he developed various types of power machinery, but the results fell short of his ambitions.
Around that time, he traveled to Germany, and inspired by the diesel engines he encountered there, he set about the task of reducing the size of the diesel engine, which was too large to be handled easily. In 1933, he completed the world's first small water-cooled diesel engine, the Model HB, which featured good fuel economy, durability, and safety. Thereafter, the company's technology was applied not only to agricultural equipment, but to a wide variety of fields, including watercraft, construction equipment, and the like.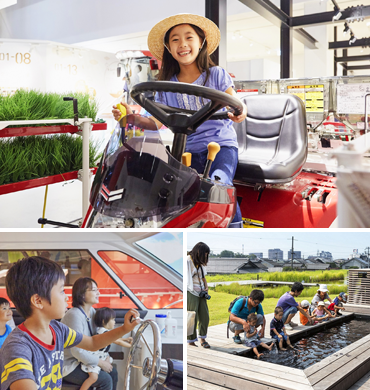 A company museum where visitors can look, touch, and feel
The Yanmar Museum opened in Nagahama, Shiga Prefecture, the birthplace of founder Magokichi Yamaoka, in 2013, in commemoration of the company's 100th anniversary. Not only does the museum trace the footsteps of Magokichi Yamaoka and Yanmar to present the history of engine development, it also lets visitors learn about engines and machinery through a variety of enjoyable activities. You can operate a real power shovel or pleasure boat, soak your feet in a foot bath that is warmed by waste heat from our engines, and even make your own souvenir button in a stamping press.
Also popular are the biotope, where visitors can observe plants and animals from the Lake Biwa area, the hands-on farm, where rice and vegetables are grown, and the MONOZUKURI workshop, which provides activities for children.
Yanmar Museum
Address

6-50 Sanwa-cho, Nagahama, Shiga Pref.

Hours

10:00 a.m. to 6:00 p.m. (visitors admitted until 5:00 p.m.)

Closed

Mondays (except holidays, when closed on the following weekday), end of year/beginning of year

Cost

Admission: adults 600 yen, elementary and junior high school students 300 yen. Disabled persons with a disability certificate, along with one attendant: adults 300 yen, elementary and junior high school students 100 yen. Group discounts are available (for groups of 20 or more). No additional charge for permanently available hands-on experiences. Workshop: 100 yen and up.

Phone

+81-749-62-8887

Access

Approximately 10 minutes on foot from Nagahama Station on the JR Hokuriku Main Line (free shuttle bus from west exit of JR Nagahama Station on Saturdays, Sundays, and holidays only)
Approximately 10 minutes by car from Nagahama Interchange on the Hokuriku Expressway

Web site