Tokoname's famous sake tastes even better drunk from Tokoname-ware crafted in one of Japan's six ancient potteries.
Pottery town Tokoname is scenically located on Aichi's Chita Peninsula. Famous especially for its teapots and maneki-neko beckoning-cat figures, along with Shigaraki, Bizen, Tamba, Echizen, and Seto, it is one of Japan's six famous ancient potteries. In April 2017, Tokoname was recognized as a Japan Heritage site. On social media, local hit spots include the huge Toko-nyan cat, the Pottery Path, and Dokanzaka, a sloping way lined with earthenware pipes on one side and traditional liquor pot on the other. As you enjoy your stroll through town, along with interesting galleries that sell local ceramic works, you can discover old townhouses and studios converted into welcoming cafés.
Tokoname also has two sake breweries: Hakuro (Sawada Shuzo Co., Ltd.) and Nenohi (Morita Co., Ltd.). This year, Hakuro celebrates the 170th year since its foundation. Nenohi's history reaches back more than 350 years. Both of these traditional breweries are animated by the same discerning spirit, one that continues to breathe life into a town of artisans who create Tokoname-ware.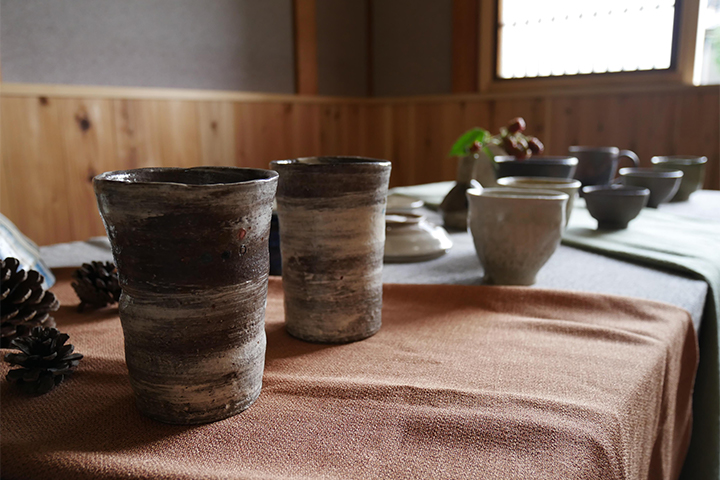 Tokoname-ware
Blessed with plentiful high-quality clay and local forests that supplied fuel, about a millennium ago, in the late Heian period, Tokoname was reckoned to have had the highest production of the six ancient potteries. From a convenient seaside location midway along the coast of Honshu, Tokoname-ware was easily traded by sea and used all over Japan. Including tiles and sanitaryware, tableware, tea-ceremony items, and sake cups and flasks, the town still produces many and varied ceramic goods.
Sake breweries in this region
Sawadashuzo

Tokoname-shi, Aichi

0569-35-4003

Morita

Tokoname-shi, Aichi

0569-37-0733