The sake of Tsushima, once famed as the leading commercial city of Owari: the "kitchen of Oda Nobunaga"
Japanese sake from Tsurumi Brewing is made with the flowing waters of the Kiso River, and the low-temperature fermentation ideal for sake-brewing. With time, care, and the same yeast as used in daiginjo sake, there is no need for sugars or acidifiers. Tsushima flourished from the Kamakura period along the border connecting Owari and Ise, and the many rivers in the region nurtured extensive industry. During the Period of Warring States, Owari was a hub of commerce that earned the nickname of "the kitchen of Oda Nobunaga." Sake-brewing was common here for centuries due to its religious significance at Tsushima Shrine and elswehere. The Danjiri-bune Gyoji of the Owari-Tsushima Tenno Festival, treasured by Oda Nobunaga and Toyotomi Hideyoshi both, carries on a tradition of almost 600 years, and has been designated as a UNESCO World Heritage.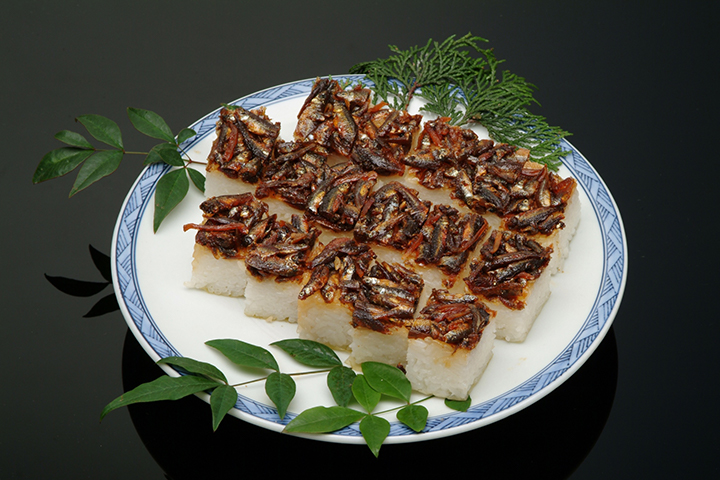 Moroko (longtooth grouper) sushi
This river fish is slow-cooked with brown sugar, soy sauce, sake, and ginger, then pressed into molds to make moroko sushi. A popular dish for gatherings and the Owari-Tsushima Tenno Festival, the sweet yet slightly bitter taste is perfect with Japanese sake.
Sake breweries in this region
Tsurumishuzo

Tsushima-shi, Aichi

0567-31-1141

Chochinshuzo

Tsushima-shi, Aichi

0567-26-3319