Alive in Takaoka for 400 years: local sake culture
The city of Takaoka is in central Honshu, at the northwest of Toyama Prefecture. Toyama has its feet in the Sea of Japan and its head in the 3,000-meter peaks of the Tateyama Mountains. These can be seen from Takaoka's Amaharashi Coast. From the coast, Takaoka fans out inland. It is watered by two rivers flowing into Toyama Bay, the Shogawa and the Oyabegawa, which ensure superb groundwater. Pure water, nature, and greenery abound in the city. Takaoka has long been known for its copper and brass goods, lacquerware, and other traditional artisanal industries. The city has a living legacy of practical aptitude and creative spirit. These grew during 400 years reaching back deep into the feudal period and still continue to thrive. As well as craft industries, possessing a good port that ships cargoes such as rice, the raw material for sake, other grains, cotton, and fertilizer, Takaoka has also been called "the pantry of the Kaga Clan." Exploring new territory, ingenious local artisans have been deploying their legacy of skill to create new craft products with excellent designs. Among these, people all over Japan have been intrigued by recent attractive sake vessels that take these inherited skills to new levels. Appealing to people of today, these novel items embody generations of crafting skill.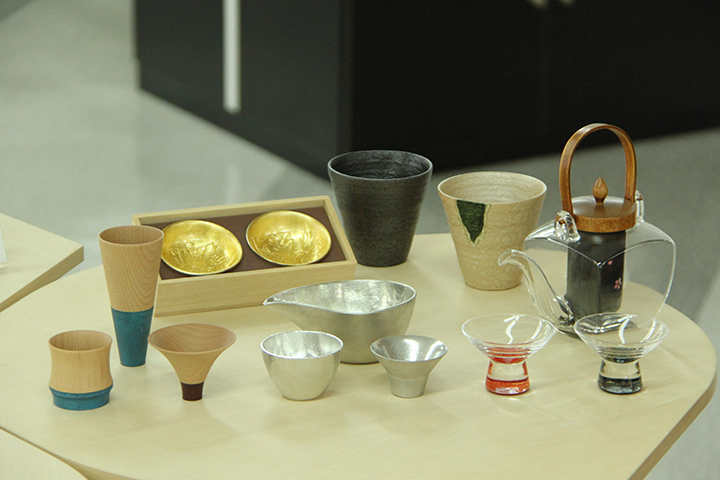 Sake vessels
In a place famous for metal crafts, Takaoka artisans continue to craft many different kinds of sake servers and cups. Pewter vessels are esteemed for the way they round out the flavor of sake. Some designs, for example, incorporating wood and brass, are distinctively stylish. Serving artisanal sake from unique crafted items makes the experience even more special.
Sake breweries in this region
Kiyotoshuzojo

Takaoka-shi, Toyama

0766-22-0557