Food and sake that interweaves the land and water of Tonami
From the 3,000-meter peaks of the Tateyama Mountains, which form part of the Northern Alps, to the 1,000-meter depths of Toyama Bay, Toyama Prefecture is well endowed with a beautiful natural environment. Through a vertical spread of 4,000 meters, it spans many topographies and ecological zones and niches. Famous for its production of tulip bulbs, the city of Tonami in the west of Toyama has beautiful rural scenes of solitary farmsteads dotting the land in dispersed-village settlements. With irrigated rice fields on all sides and heavy snowfall in winter, Tonami has plentiful water throughout the year. Moreover, the marked transition from season to season enables the creation of superior sake. This goes well with traditional and natural local food products, many featuring innovations exclusive to the area. Dishes such as yogoshi – finely chopped radish leaves seasoned with miso – fine okado noodles produced in the chill of winter, and incomparable sweetfish caught in the Shogawa River all naturally match the local brew. Tonami sake made using well water from Shokawa include Gen and Nokaya of Wakatsuru Sake Brewery, which has been in operation since 1862. While you are here, experience the particular delight of local food and sake.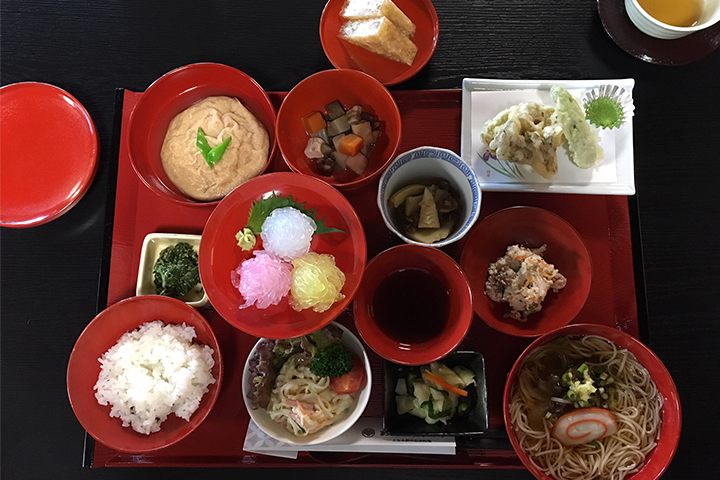 Tonami local dishes
Since its founding in 1862, Wakatsuru Sake Brewery has been brewing sake with the pure groundwater of the Shogawa Valley.
Local sake is made with two things. One is well water charged by the flow of the Shogawa, which collects meltwater from the mountains around the site of World Heritage Gokayama. The other is fine-quality sake rice nourished by the rich soil of the Tonami Plain. Made with cheerful devotion and harmonized by the seasoned skill of the master brewer, Wakatsuru sake is popular in Toyama. Enjoy the tasty synergy with Tonami local dishes and sweetfish.
Sake breweries in this region
Wakatsurushuzo

Tonami-shi, Toyama

0763-32-3032

Yoshieshuzo

Tonami-shi, Toyama

0763-32-2232