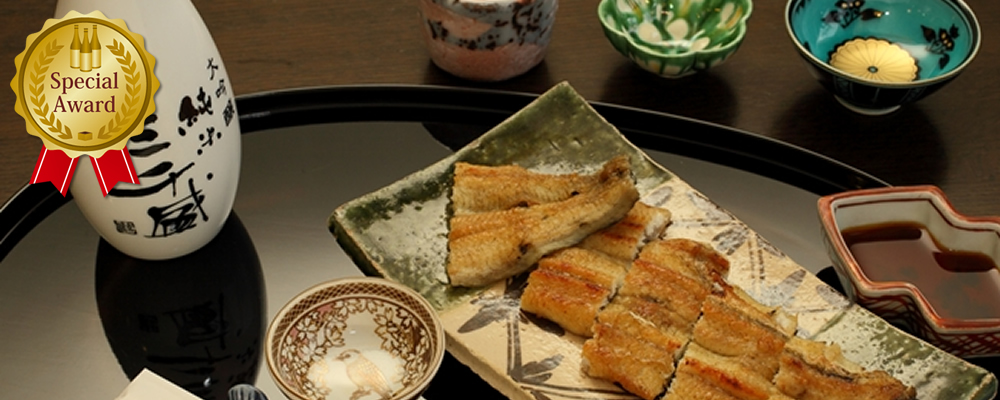 An exquisite meal with grilled eels and sake (Japanese rice wine) using dishes of Kato Takuo (the late living national treasure), and Kobeigama pottery (a two-star tourist spot)
"Romantei Uoseki", established in the midst of Tajimi beside the crosstown river called Tokigawa in 1897, is evaluated with a wonderful veiw of the river and delicious eel dishes served with sake.
The Hon-machi area, the center of Tajimi City, was once-bustling with wholesalers of Mino wares, prospered as a trading hub since Meiji era. The merchants who were caring heavy luggage of ceramics all the way, loved to drop in for nutritious eels caught in the Tokigawa river and relieved their tired body. This is why there are still so many restaurants specialized in eels in Tajimi.
Among others, "Romantei Uoseki" is known not only as the good taste, but also as the way of serving dishes apealing to the eyes, using valuable dishes, including works by Takuo Kato (the late living national treasure), Kobeigama pottery (a two-star tourist spot), and Kozo Kato (the living national treasure), collected with time and care by the owner of the restaurant himself.
The most recommended menu of "Uoseki" is "shirayaki", eels broiled without sweetend soy sauce or seasoning, which is flaky texture with fragrant flavor. Served with "ponze sauce", it is perfectly matched with the dry sake of the traditional Michisakari brewery.
We are sure you will enjoy the harmony of taste and the warm atmosphere of Tajimi City.
Michisakari Junmai Daiginjo
Tasty and dry Sake including acidity. You can feel the bulge of taste both in cold and hot.
Menu: Eel white grill
It is an exactly encounter with eel and charcoal. That's why craftman's skill is important. It pursues the original deliciousness of eel that is "body like cake! skin like rice cracker!". Deliciousness of the eel white grill is the smell and crispy texture. Taste it with rich Ponzu.