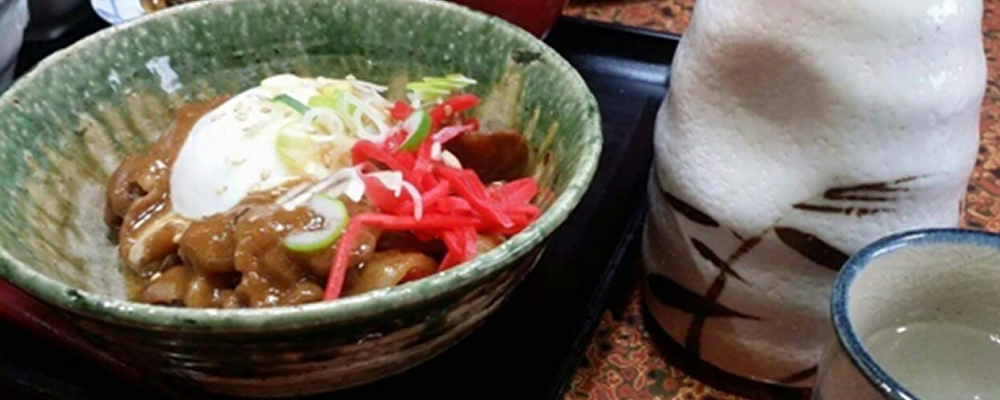 Local Miso Pork Bowl
You can enjoy the collaboration of miso, minoyaki and sake made in Japanese traditional mountain village.
Gifu Prefecture, where the center of Japanese island which runs north, south, east and west. There is a local town which is called Dachi in Toki city in the prefecture. There, we could see the very beautiful harmony of foods, sake and Japanese ceramics, takes the roots of Japan. Mso Pork Bowl is the thing that you can feel Dachi town the best.
Miso, or soybean paste is a condiment made from soybeans, malted rice and salt. These have been made in Japanese mountain village since ancient times.
When it comes to Miso Pork Bowl, we eat fried pork grown in Gifu Prefecture with streaming rice. The savory miso smell gives an edge to your appetite.
What matches Miso Pork Bowl is Dachi's local sake, Chigonoiwa. Actually its miso is made from sake lees that were produced by Chigonoiwa. Both have the same roots so that there is no doubt that there is chemistry between two of them.
When the refreshing flavor and subtle taste sake have are in harrnony with miso, you will find how amazing Japanese traditional local dishes are.
Finally, let us introduce you a wonderful way to enjoy Japanese food, with Dachi Bowl of Mino Ceramic. Dachi has another aspect of the largest Mino ceramic producer in Japan. The stunning form accompanies some glamour to pork bowls.
Food that have a common ancestry and Japanese cerarnic are waiting for you. Why don't you come to meet Dachi's specialty, which each shows diffbrent aspects?
Chigonoiwa Josenshu (First class sake)
It's made from very fresh soft water and a perfect local sake for your evening drinks
Miso Pork Bowl
You can enjoy rice and the pork that was fried with miso made from sake lees of Chigonoiwa in Japanese ceramic.