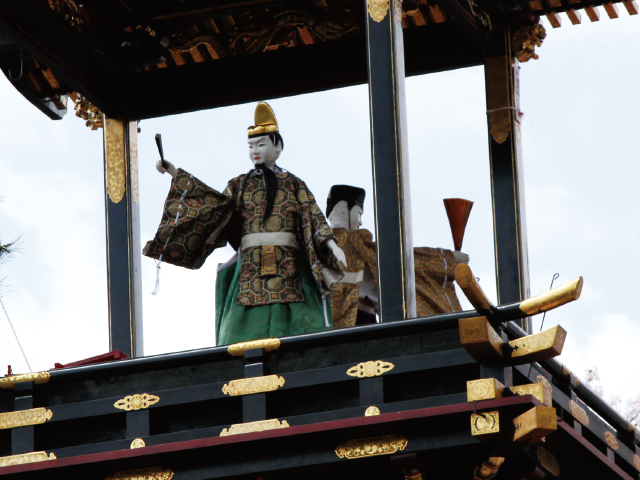 What are dashi floats and karakuri?
Dashi floats endow local festivals with stately grandeur.
Depending on the part of Japan, they are called different names
such as yama [mountain], hikiyama [haul mountain],
hoko [halberd], yatai [cart], and danjiri [float].
Many Asian countries have the custom of parading floats in festivals.
Currently, all over Japan, there are said to be about 5,000 such floats.
Pulling floats around the town is a prayer for local prosperity and family safety.
Sustaining strong ties and local pride, float festivals
have been passed down from generation to generation.
Some dashi floats used in Japanese festivals have moving karakuri puppets.
About 300 such karakuri dashi exist in Japan: most of them are in Chubu.
Dashi Floats, Karakuri Experience Program
Along the Shoryu-do Dragon Route are UNESCO registered Intangible Cultural Heritage Yama, Hoko and Yatai festival floats. We offer a unique Japanese festivals related experience program for inbound travelers, that can be enjoyed outside of festival times. Feel the hearts of the Japanese and of the region in this most enjoyable program. (As of March 30, 2018)