Yokoyama Ishigami Jinja Shrine















Yokoyama Ishigami Jinja Shrine
Recommended Themes, Seasons and Activities


Dragon Legends and Traditions:Legend of the white snake
History:Shrines and Temples
Good Luck and Festivals:Spiritual Sites

Spring / Summer / Autumn / Winter

Cultural Experiences(Wishing Stone, Onsen)
The sacred power of the Dragon God and Yokoyama Ishigami Jinja Shrine
Situated in the midst of the scenic glory of the Ise–Shima National Park at the foot of Mount Yokoyama, the Yokoyama Ishigami Shrine was built in the early 12th century to honor Ten'ei ryuo myojin, also known as Ryujin or the Dragon God, a Shinto deity who protects the local community.
The Ishigami (Stone God) is known for "granting without fail a single wish in a single lifetime" to supplicants, drawing many visitor from both within Mie and all over Japan. For believers of the Dragon God, this is a sacred spot, associated with the granting of good fortune to those who visit.
After visiting Yokoyama Ishigami Shrine, don't forget to take back home with you a white hope stone, said to embody the power of a dragon and to be associated with the god of stone, or perhaps a bracelet of the necklace made of natural stones. These pure white, natural stones are three or four centimeters across, and have a wish for good health, a successful career, or a happy marriage written on them in vermillion letters. You can also select a stone with a personalized wish on it for a fee. Describe your wish in detail to one of the Shinto clergy for help in selecting the perfect stone for you. But please remember that, whether by postal mail or in person, hope stones must be returned to the shrine after two years.
Legend of the white snake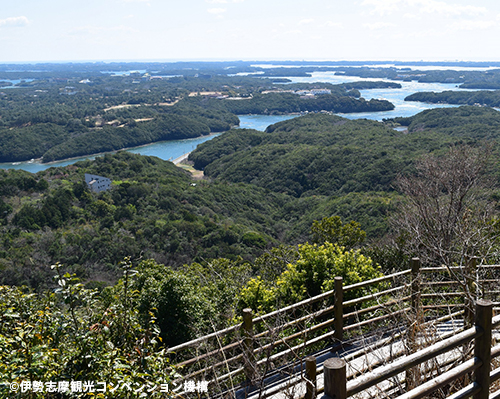 Once upon a time, there was an old woman who found a white rock. This white rock was actually a white snake that lived deep in the mountain forest. The old woman brought this rock to Ishigami (Stone God) and presented it in supplication, saying, "I wish to be a young woman once more." Ishigami is known for "granting without fail a single wish in a single lifetime," and sure enough, one morning the following spring, the old woman awoke to find herself transformed into a young woman again and became devoted to the worship of Ishigami. Since that time, people from all around came to ask for just one wish to come true and to celebrate the wisdom of Ishigami.
Yokoyama Ishigami Jinja Shrine
| | |
| --- | --- |
| Address | Ugata, Ago-cho, Shima, Mie Prefecture |
| Hours | 10:00 am to 3:00 pm (Advance order required for stone amulets) |
| Closed | Open daily |
| Cost | Free of charge |
| Phone | 0599-43-0421 |
| Access | By taxi from Kintetsu Ugata Sta., about 6 min |
| Web site | https://www.iseshima-kanko.jp/spot/1317/ |
Other Spots


The Four Shoryudo Routes