Ryuogu at ruins of Unkanji Temple















Ryuogu at ruins of Unkanji Temple
Recommended Themes, Seasons and Activities


Natural Scenery:Mountain and Valley, Pond and Lake, Flower and Tree
Dragon Legends and Traditions:Mount Kagamiyama Legend of the Dragon King
History:Shrines and Temples, Castle and Historical Site

Spring / Summer / Autumn / Winter

Cultural Experiences(Hiking) / Walk / Photograph
A hiking trail celebrated in verse
Since ancient times, many poets have been inspired by Mount Kagamiyama. Near the summit, in the year AD 600, when he was 26 years old, widely venerated Shotoku Taishi is said to have carved an image of the Buddha and founded the since-abandoned temple of Unkanji.
Some local people also refer to Kagamiyama, which literally means "Mirror Mountain," as "Sacred Mountain" or "Dragonking-san." The verdant beauty of the mountain has also figured in more than a hundred haiku and longer verse forms. The most well-known is by Fujiwara Sadaie (1162–1241), which can be crudely translated as: "Kagamiyama, does it reflect feelings to you? Are those your travel clothes? Don't go yet."
You can discover some of the same enchantment on the Kagamiyama Hiking Course. Enjoy varied charms on a route to the mountaintop by following a trail that takes you through forest, past a pond where you can enjoy a rest, and arrives at a venerable shrine.
Mount Kagamiyama Legend of the Dragon King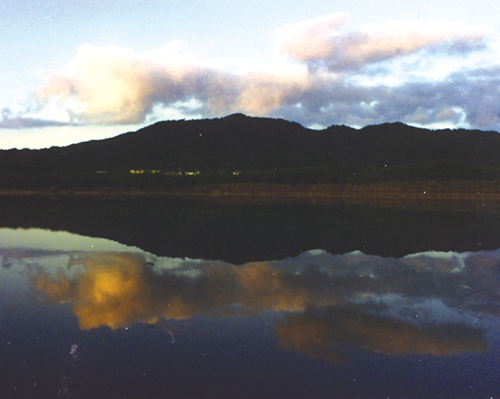 In Ryuogu Shrine at the peak above the site of the temple, Manashi-ryujin, one of the eight dragon kings, is also venerated. Local people revere Manashi-ryujin as a god of rain who brings water to the fields and still today, rain-making rites are held.
Ryuogu at ruins of Unkanji Temple
Address

Kagami, Ryuo-cho, Gamo-gun, Shiga Prefecture

Hours

9:00 am to 5:00 pm

Closed

Open daily

Cost

Free of charge

Phone

Ryuo-cho Tourism Association 0748-58-3715

Access

By omi Tetsudo Bus Hachiman Outlet-sen from JR Biwako Line omi Hachiman Sta. to Mitsui Outlet Park, about 30 min; then go in via Kagami-yama Parking Entrance
By omi Tetsudo Bus Yasu Outlet-sen from JR Biwako Line Yasu Sta. to Mitsui Outlet Park, about 35 min; then go in via Kagami-yama Parking Entrance

Web site

http://www.rmc.ne.jp/dragon-kanko/hiking/kagamiyama.html
Other Spots


The Four Shoryudo Routes