Chikubushima Island Hogonji Temple















Chikubushima Island Hogonji Temple
Recommended Themes, Seasons and Activities


Natural Scenery:Pond and Lake
History:Shrines and Temples
Good Luck and Festivals:Festival and Shinto Rituals

Spring / Summer / Autumn / Winter

Cultural Experiences(The Dharma you wish upon for happiness, Amulet, Vermilion Seal) / Walk / Photograph
A "power spot" floating in Lake Biwa
Chikubushima Island, in Lake Biwa, has attracted worshippers for centuries as the home of Hogonji Temple, the 30th of 33 sites on the Saigoku Kannon Pilgrimage. There is regular ferry service from Nagahama in the eastern part of the lake, and Imazu opposite. The temple was founded in the early 8th century by the monk Gyoki, at the command of Emperor Shomu. Hogonji offers a number of sights, including the Karamon Gate (a national treasure), the Kannon Hall, and the stone pagoda. The Karamon Gate is decorated with the extensive decoration and vibrant colors of the Momoyama period. The main hall is one of the three great Japanese shrines dedicated to the goddess Benzaiten.
From misery to happiness through the Dharma
The goddess Benzaiten (the Japanese version of Sarasvati) is said to lead people to happiness, and there is a red Dharma statue named "the Dharma you wish upon for happiness" on the grounds to help: just write your request on a slip of paper, drop it inside, and the monks will pray for you.
The entire Chikubushima Island is a special "power spot," and its conifer woods offer beautiful scenery throughout the year.
「竹生島」の龍神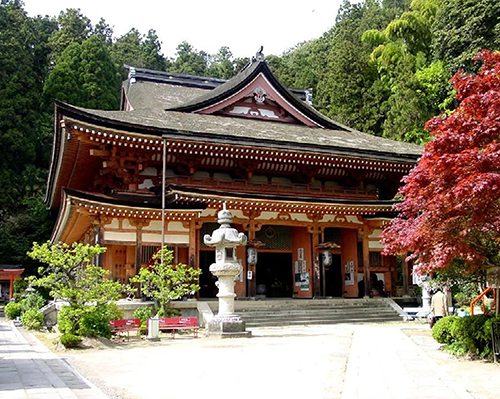 延喜帝(醍醐天皇)の臣下が竹生島の弁才天の社に詣でようと、琵琶湖にやって来て、社人に宝物をみせてもらい、竹生島で時を過ごしているときのこと。にわかに御殿が鳴動し、光輝く弁才天が現れました。壮麗な天女の姿になり、弁才天が夜の舞楽を奏するうちに、やがて湖上には月が澄み輝くころを迎えたところ、湖中から龍神が現れました。龍神は金銀珠玉を臣下に捧げ、祝福の姿を表します。そして、「ある時は天女となって人々の願いをかなえ、ある時は下界の龍神となって国土を鎮めるのだ」と、衆生済度の誓いをあらわしました。そのあと天女は社殿に入り、龍神は湖水の波を蹴立て、龍宮のなかへ飛び入りました。
Chikubushima Island Hogonji Temple
| | |
| --- | --- |
| Address | 664 Chikubu-shima, Hayazaki, Nagahama, Shiga Prefecture |
| Hours | 9:30 am to 4:30 pm |
| Closed | Open daily |
| Cost | Adult, 400 yen; child, 300 yen |
| Phone | 0749-63-4410 |
| Access | By boat from ports at Nagahama, Hikone, Imazu, about 25–40 min |
| Web site | http://www.chikubushima.jp/ |
Other Spots


The Four Shoryudo Routes