Keya Kurotatsu Jinja Shrine















Keya Kurotatsu Jinja Shrine
Recommended Themes, Seasons and Activities


Dragon Legends and Traditions:The Legends of Kuzuryu, the Nine-Headed Dragon
Good Luck and Festivals:Spiritual Sites, Festival and Shinto Rituals

Spring / Summer / Autumn / Winter

Cultural Experiences(Wishing Stone, Bad Luck-breaking Stone, Pray for Become Beautiful, Amulet, Vermilion Seal)
"Kurotatsu-san", the boundless bringer of money, good luck, and power
The Keya Kurotatsu Jinja Shrine, known locally as "Kurotatsu-san," was built as a shrine to the guardian deity of the Kuzuryu River. Numbered among the four great shrines since ancient times, it is said to have the power to ward off and dispel evil spirits. The deity enshrined here is warmly worshipped as a god whose ancient power has brought good fortune through the ages and to whom one prays for prosperity in business. The dragon god Ryujin is enshrined here, and as an agent of the god, a rubbing stone with a figure of a small dragon (a serpent) is provided that brings good luck, good health, and wealth. The Kurotatsu Shrine rules over the waters, and a festival is held there to give thanks for the blessings of water.
Make your wishes here! Visit the experience spots.
The Kurotatsu Shrine is filled with spots you will want to experience. The Gankake Ishi (Wishing Stone) is a stone that had fallen into the Kuzuryu River and that the villagers offered to the shrine 1,000 years ago. Strike the stone three times to make a wish. At the Yakuwari Ishi ("Bad Luck-breaking Stone"), you transfer your bad luck into a clay cup by blowing into the cup, then smash the cup by throwing it against the Yakuwari Ishi. You can also pray to have an easy childbirth, to ward off bad luck, or to pass an exam, and there's even a special prayer for women to become beautiful and accomplished.
The Legends of Kuzuryu, the Nine-Headed Dragon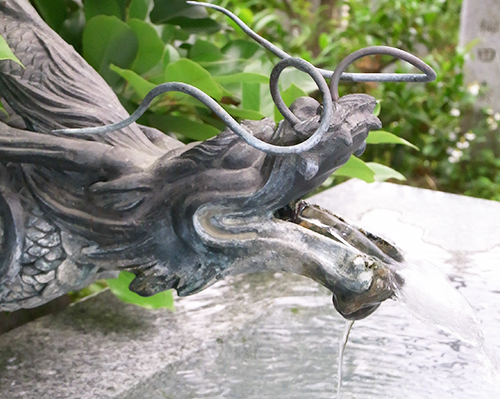 In the latter half of the 9th century, an incarnation of Hakusan appeared before the assembled monks of Heisenji, and when a statue of the incarnation was set afloat on the river, a dragon with nine heads appeared, accepted the statue as an offering, and carried it downriver, ultimately arriving on the shore opposite the Kurotatsu Daimyo Shrine. According to legend, the river was thereafter called the Kuzuryu River. Another story says that in the mid-10th century, four shrines were established in the four corners of the country to defend its territory. The shrine in the northern corner was the Kurotatsu Shrine, and because the deity enshrined there was a black dragon (Kurotatsu), the river that flowed in front of the shrine was called the Kurotatsu River. With the passage of time, the river became known as the Kuzuryu River.
The Keya Kurotatsu Jinja Shrine
| | |
| --- | --- |
| Address | 3-8-1 Keya, Fukui, Fukui Prefecture |
| Hours | 6:30 am to 3:30 pm |
| Closed | Open daily |
| Cost | Free of charge |
| Phone | 0776-36-7800 |
| Access | On foot from Fukui Railway Fukubu Line Asuwayama-Koenguchi Sta., about 5 min By car from JR Fukui Sta., about 10 min |
| Web site | http://www.kurotatu-jinja.jp/ |
Other Spots


The Four Shoryudo Routes