Hokoji Temple















Recommended Themes, Seasons and Activities


Natural Scenery:Mountain and Valley, Flower and Tree
Dragon Legends and Traditions:Ryujin Dragon legend
History:Shrines and Temples
The Arts:Sculpture

Spring / Summer / Autumn / Winter

Cultural Experiences(Transcribing Sutras, Zazen Meditation, Buddhist-image Tracing, Zazen Meditation, Buddhist Cuisine, Amulet, Vermilion Seal)/ Look / Walk
Tour the power spots of this venerable temple
Situated on a mountainside north of the city of Hamamatsu, Hokoji Temple was founded during the 14th century. From the Sammon gate, on either side of the approach to the Hondo main building, you can see 500 images of arhats. You are considered blessed if one of the saintly faces resembles your own face.
Between the Great Hall and the Kuromon Gate, there are two paths to follow: the main Sando path and a back route known as Philosopher's Way. Follow these paths to find two popular power spots: along the main path, there is a huge 600-year-old tree called Hanzo Sugi; on Philosopher's Way is the stump of Kabo Hanzo Sugi. After being ravaged by fire, still sprouting through the charred remains, the tree lived on for 130 years.
Still-working power of rising and descending dragons
Standing in precincts covering 60 hectares, including the Hondo main hall and three-storey pagoda, Hokoji Temple has over 60 buildings. One of the notable buildings is Hanzobo Shinden, dedicated to Hokoji's tutelary deity Okuyama Hanzobo Daigongen, who, in a storm at sea, preserved the temple's founding Zen master when he was returning to Japan from China.
Under the pent roof of the structure are a rising dragon and descending dragon. Each is so dynamically carved from a single piece of wood that viewers feel an overwhelming sense that they are moving. Hokoji Temple offers opportunities to experience zazen meditation, scripture copying, Buddhist-image tracing, and shojin ryori. Why not set aside some time to focus your mind and achieve greater clarity?
Ryujin Dragon legend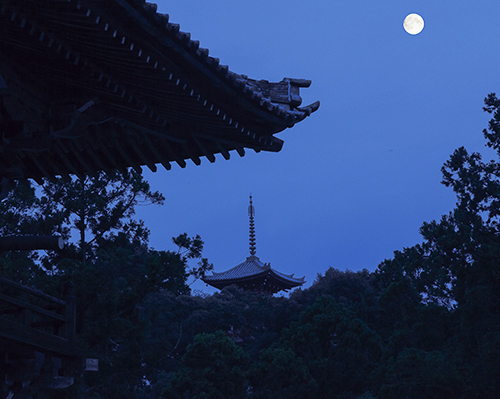 During a pilgrimage, the temple founder needed to cross a rising river at Kashima in the Tenryu area of Hamamatsu. The torrent was perilous. Just as the founder was about to cross, a Ryujin appeared and offered his body as bridge, thus allowing the founder safe passage. After the founder entered Hokoji Temple, when the Ryujin appeared and begged to be released from the suffering of being embodied in a snake-like form, he showed compassion. Stroked with scriptures, the Ryujin rose to heaven and was immediately released from 500 years of suffering. Thus released by the founder, the Dragon King swore to forever protect the waters of the temple mountain.
Hokoji Temple
| | |
| --- | --- |
| Address | 1577-1 Okuyama, Inasa-cho, Kita-ku, Hamamatsu, Shizuoka Prefecture |
| Hours | 9:00 am to 4:00 pm |
| Closed | Open daily |
| Cost | Adult, 400 yen; junior high and younger; 200 yen, preschool child, free |
| Phone | 053-543-0003 |
| Access | By #45 bus bound for Shiyakusho • Okuyama from Hamamatsu Sta. boarding point #15 to Okuyama, about 60 min |
| Web site | http://www.houkouji.or.jp/ |
Other Spots


The Four Shoryudo Routes