Zuisenji Temple















Recommended Themes, Seasons and Activities


History:Shrines and Temples, Garden, Treasure Hall and Museum
Good Luck and Festivals:Festival and Shinto Rituals
The Arts:Sculpture

Spring / Summer / Autumn / Winter

Cultural Experiences(Guided Tour, Amulet, Vermilion Seal)/ Look / Walk / Photograph
A Otani-school Shingon-shu Buddhist temple, flourishing with the community
Inami, where the Inamibetsuin Zuisenji Temple is located, is situated in southwest Toyama Prefecture, at the foot of Mount Yaotome. Shakunyo Shonin, the 5th head of Hongan-ji Temple, established Zuisenji Temple here at the end of the 14th century, and the town grew around the temple complex. During the Sengoku period the temple was a center for the samurai of Etchu province, protected by sturdy stone walls. It was burned by the army of Sassa Narimasa in the 16th century, later relocating to Johana, and finally returning once again to Inami to rebuild. This Otani-school Shingon-shu temple is known as both Inamibetsuin and Zuisenji Temple, and is still an active site for worship.
Inami is well-known for its carving, and the road to the temple is flanked by artist workshops and the sound of chisels. Gorgeous Sculpture are found throughout the temple as well.
The pinnacle of Inami carving
Pilgrims from throughout Japan come to the temple, and to see Inami Sculpture decorating the main hall, gate, treasure hall, garden, and tea house. The Sculpture of the Taishi Hall, including Sculpture of dragons and some of the finest Inami work, are especially striking, with delicate and beautiful purfling. The second story of the gate features Gautama Buddha, Maitreya, and Ananda, and is surrounded by exquisite Sculpture. From the second story you can see the enormous main hall, the fourth-largest in Japan, with a width of 46 meters, a depth of 43 meters, and an area of 450 tatami mats.
The spacious grounds are beautiful throughout the year, and delight visitors with cherry and wisteria blossoms, autumnal foliage, and more.
Legend of the Rising Dragon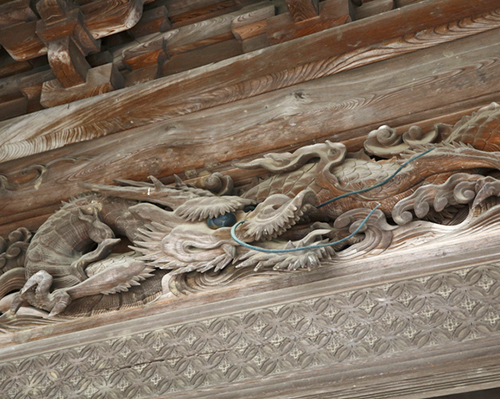 It is said that during the great fire of 1879, the dragon in the famous "wave and dragon" carving came to life, and saved the gate from burning with water from the well. The Shoryu-no-matsu is the pine tree it wrapped its tail around, according to legend. The well that the dragon carried the water from in its mouth still stands, along with a carving depicting the scene.
Zuisenji Temple
| | |
| --- | --- |
| Address | 3050 Inami, Nanto, Toyama Prefecture |
| Hours | 9:00 am to 4:30 pm |
| Closed | Open daily |
| Cost | Adult, 500 yen |
| Phone | 0763-82-0004 |
| Access | Zuisenji-mae By bus from Ainokaze Toyama Railway Line Takaoka Sta., about 55 min |
| Web site | http://www.geocities.jp/inamibetuinzuisenji/ |
Other Spots


The Four Shoryudo Routes