Bessho Onsen















Recommended Themes, Seasons and Activities


Dragon Legends and Traditions:A local mountain legend "Take-no-nobori"
History:Shrines and Temples
Good Luck and Festivals:Spiritual Sites, Festival and Shinto Rituals, Tradition

Spring / Summer / Autumn / Winter

Cultural Experiences(Onsen, Zazen Meditation, Pray) / Walk / Photograph
Discover historical hot springs in Shinshu's oldest onsen town
Legend has it that Yamato Takeru, emperor in ancient Japan, first opened the seven medicinal springs at Bessho Onsen and named them Nanakuri. Around the turn of the first millennium, these Nanakuri are mentioned in the Pillow Book written by Sei Shonagon. Known for its beauty waters, their slightly alkaline quality leaves skin feeling satiny smooth. You can enjoy a tour of Bessho Onsen's three outdoor public baths. Ishiyu is a hideaway spring, and was a haunt of warlord Sanada Yukimura, who died in 1615. In the ninth century, holy man Ennin, aka Jikaku Daishi, bathed in Daishiyu. Hojo Yoshimasa, a 13th-century administrator of the Kamakura Shogunate, bathed in Oyu. As you explore history, you can also give your feet a welcome treat in the Nanakuri footbath.
Both a nationally unique Kannon and a god for marriage
In Bessho Onsen you can see many other historical sites, including shrines and temples. One is a uniquely beautiful, wooden, three-storey, octagonal pagoda (National Treasure). Its form is fascinating. At Kitamuki Kannon Temple, you can see another rarity: a Kannon image that faces north. It is reputed to protect worshippers from ill fortune. A manifestation of Buddhist compassion, facing the northern stars, the Kannon is associated with the saying, "Like the Big Dipper, I will be there for everyone." In Aizendo hall of the same temple, you can see an image of Aizen Myo-o, a Buddhist image associated with love and marriage. In the grounds, requests for a happy union are also made at the Aizen Katsura tree.
A local mountain legend "Take-no-nobori"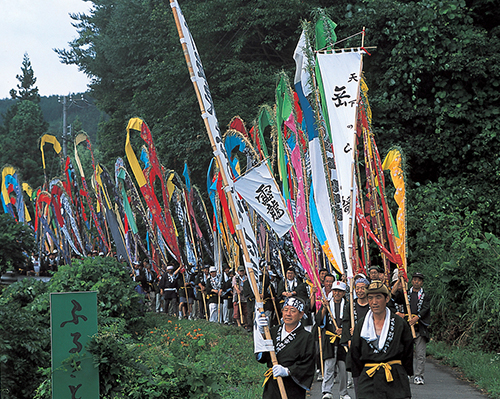 Once a severe drought came and lingered. Irrigation water ran out and the growing plants were starting wither. Prayers for rain were made to the deity of Mount Ogamidake. Rains fell, and the crops started to grow again. At the peak of Ogamidake, a shrine was then built to venerate the mountain's nine-headed dragon deity. In gratitude, along with prayers for ongoing protection, offerings of cloth woven at local households are made annually. Thus, the Take-no-nobori procession of mountain banners first began.
Before dawn on the day of the event, in procession, the bearers of the mountain banners leave Bessho Onsen to ascend the mountain. When they reach Kuzuryu Shrine at the peak, the mountain banners and sake are dedicated to the mountain. After this, the first 40 or so banners in the procession are designated rising dragon, and the following banners descending dragon, and the procession goes down the mountain. On the way, accompanied by flutes and taiko drums, three dragon-headed dancers – one red-faced female and two green-faced males – join the procession and dance, each beating a drum carried at the waist.
Bessho Onsen
| | |
| --- | --- |
| Address | 1853-3 Bessho Onsen, Ueda, Nagano Prefecture |
| Hours | Varies according to facility |
| Closed | Varies according to facility |
| Cost | Varies according to facility |
| Phone | Bessho Onsen Tourism Association 0268-38-3510 |
| Access | By train from Ueda Electric Railway Bessho Line Ueda Sta. to Bessho Onsen Sta., about 30 min |
| Web site | http://www.bessho-spa.jp/ |
Other Spots


The Four Shoryudo Routes